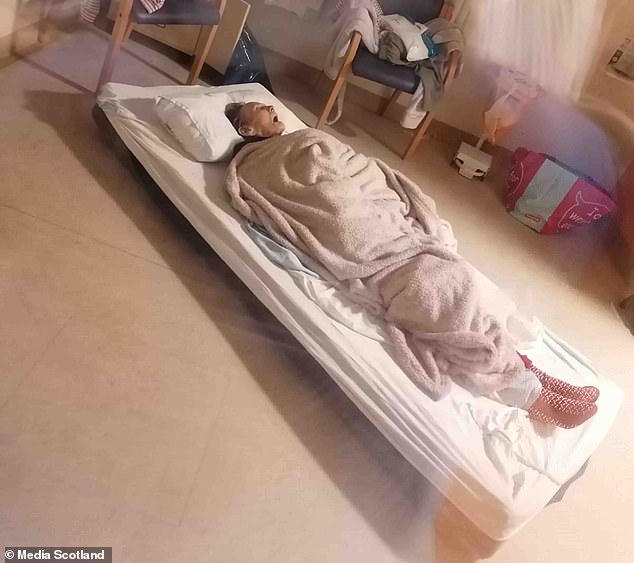 A heartbreaking image shows a 78-year-old woman with a broken hip lying on a mattress on a hospital floor days before she died after contracting Covid-19 while on the ward.
Maureen Paterson was admitted to University Hospital Wishaw in North Lanarkshire, Scotland, on December 16 after suffering from various cognitive issues.
Her daughter, Lynn Barrie, says Mrs Paterson called her in a 'terrible state' on New Year's Day before it was discovered her stoma bag had 'broken several times'.
She then contracted coronavirus later that same month before her family called to check on her on the morning of January 28 – only to find she had taken a fall and broken her hip.
Mrs Paterson passed away on Thursday morning last week. Lynn has now submitted a formal notice of complaint over what she describes as 'gross incompetence'.
Mrs Paterson pictured with her family. On February 1, doctors called the family to notify Mrs Paterson was nearing the end of her life and she died four days later
Lynn stated that on January 4 her mother sustained a cut to her hand and she then contacted Wishaw hospital management regarding her mother's condition.
She was then given permission to visit Mrs Paterson every day. Lynn further claims her mother was not given her asthma inhalers for three days.