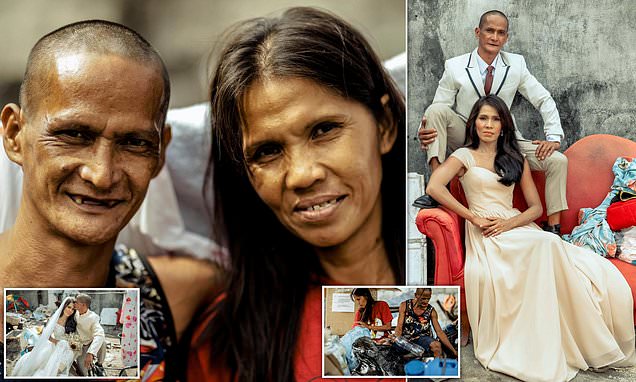 A homeless couple have revealed their transformation after being given a surprise makeover for a glamorous wedding photo shoot.
Rosalyn Ferrer, 50, and Rommel Basco, 55, from Pampanga province, the Philippines, have been squatting in a small shack in an empty patch of wasteland with their six children for several years.
After 24 years together, they were unable to marry because they couldn't afford it and were too busy focusing on 'getting enough food to eat each day'.
Richard Strandz who owns a hair salon near the couple's home, met the couple while they were collecting plastic to sell to scrape together money for food, and spoke to friends to arrange a complete wedding package for the couple.
Now Richard has helped the couple process the papers for their marriage licence, and will fund their church wedding once everything is in place.