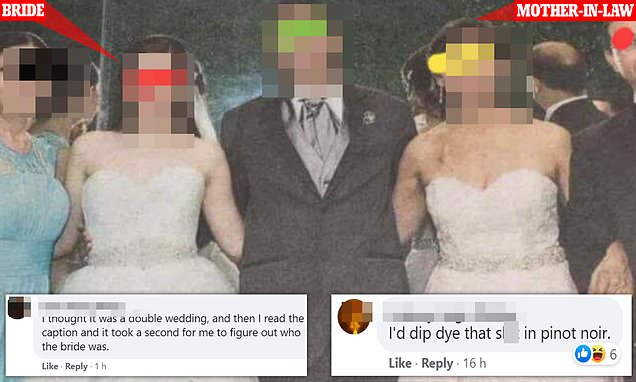 A mother-in-law was criticized for humiliating her son's new wife by wearing an identical wedding dress to hers at their nuptials.
The unnamed mother, believed to be from South America, could be seen proudly wearing the bridal gown on the arm of her son as they posed for photos, while the bride stood awkwardly at his other side.
The cringe-worthy moment was captured in a wedding picture which has resurfaced on the That's It, I'm Wedding Shaming (Non Ban happy) Facebook group.
Horrified wedding enthusiasts vilified the mother-in-law for wearing same gown, saying it looked like she wanted to marry her own son.
In the wedding picture, which was shared in a local newspaper before making it online, the bride and her mother-in-law each stand on one side of the groom, holding his arm.
The bride, standing on the left, picked a bustier gown cinched with a gem-encrusted belt. She paired the dress with drop earrings and a veil.
To the right of the groom, the mother-in-law, who is all smiles, wears an identical dress with bigger earrings and no veil.
The mother-of-the-bride, who is standing to the left of the picture, is wearing a blue gown and looks displeased at the situation.