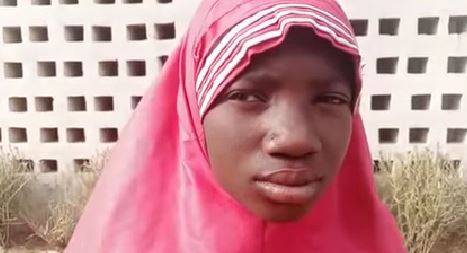 Rafia Muhammad, the co-housemaid of the16-year-old housemaid, Khadija Rabiu has retracted her statement in which she claimed that the deceased was beaten to death by their employer, Fatima Hamza (Ummi).
Mrs Hamza, a mother of four is currently in detention at the Police Headquarters in Bompai, after she was accused of beating the late Khadija to a pulp and inserting dried pepper and metal object in her vagina.
The deceased's colleague, Rafia Muhammad had told DAILY TRUST earlier that Khadija, died as a result of injuries she sustained from the beating their boss gave her.
"We came back together with our boss and she noticed that Khadija had not done the house chores.
When she asked Khadija why, she said she was ill.
"Our boss went ahead to verbally abuse her first before beating her with a pestle.
"She later called me to bring another stick to beat her too.
"I had started beating her but stopped when I noticed she was crying.
"She used a metal object to inflict injury on her vagina and later asked me to bring dried pepper from the kitchen which she put in Khadija's vagina."
Rafia said.

"She also used a metal object to inflict injury on her vagina and later asked me to bring out dried pepper from the kitchen and she put it in Khadija's vagina," adding that it was when their boss saw that Khadija was lying down and breathing heavily that she took her to a nearby hospital where she eventually died.
The deceased, who was an indigene of Kwara State reportedly sustained injuries all over her body before she finally died, some women who washed the girl's corpse narrated to Daily Trust.
"There were a lot of injuries on the corpse; right from her forehead, face. Her hand was also injured and there were stitches on her thigh." Malama Ummalkhairi Shehu told the publication
However, in a video shared by the spokesperson of the Kano State Police Command, DSP Haruna Kiyawa, on Wednesday, February 3, Rafia claimed that she was forced by a neighbour and her boss' cousin to make the alleged false statement.
"It was Aunty Zainab our neighbour and Aunty Hassana a cousin to our boss who forced me to make the earlier statement to newsmen. They threatened me that I will die the same way as Khadija if my boss was finally released. So that was why I made the false statement. It did not happen at all."

In a separate interview conducted and shared by the police spokesman, the suspect said her maid, Khadija, who spent about four months in the house was ill for two days before she died from complications from  cat bites.

"I did not know that the cat used to bite her until when she came out one day from the room crying and when asked she said it was the cat that bit her, and she also complained that it used to bite her. From there I took her to the hospital for treatment. She was on drugs," the suspect narrated.
"On the fateful day when we came back, I noticed that she was dizzy, I asked her to go to bed. It was later I realised that she was dizzy because she overdosed on the medicine given to her. I felt that she would be okay when she slept. I didn't know that she had already passed on until when I called my brother in-law who took us to the hospital where she was confirmed dead."