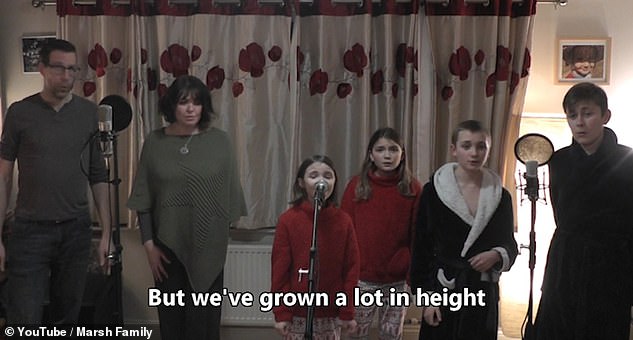 A family-of-six have gone viral for their tongue-in-cheek lockdown version of Total Eclipse of the Heart.
Dr Ben Marsh, his wife Danielle and their four children – Alfie, Thomas, Ella and Tess – from Faversham, Kent, shared their rendition of the Bonnie Tyler classic to YouTube on Tuesday.
The song, fittingly named 'Totally Fixed Where We Are', has since racked up more than 430,000 views and over 550 comments.
Its description reads: 'Still stuck with all four kids at home until at least 8 March, and watching to see what impact the rollout of vaccines will have, versus the arrival of new strains of Covid-19. Hopefully we're going to turn a corner soon.
As part of the chorus, the family sings: 'But we've grown a lot in height, there's no way for us to measure.
'And if you look our clothes are tight, we've been eating more than ever.
'All these screens must be harming our sight 'cause we're on all day long, together we once limited the hours online, now someone's got the Xbox One on all of the time (all of the time).'
They continue: 'I don't know what to do, we work in fits and starts, we're sitting in pyjamas making catty remarks.
'We're really feeling uptight, my bedroom's like a building site. Once upon a time we could travel abroad, now we barely get in the car.
'There's nothing we can do, we're totally fixed where we are.'
Dr Marsh, a history lecturer at the University of Kent, told KentOnline: 'The kids and their teachers have been great and done the best they can to keep motivated and engaged.