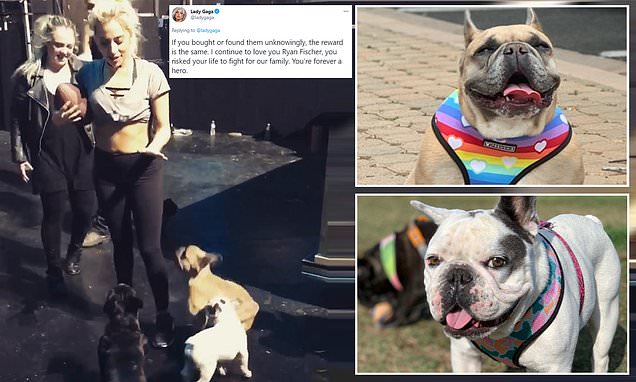 Lady Gaga's two French bulldogs, which were stolen by thieves who shot and wounded the dog walker, were handed over to the Los Angeles Police Department on Friday evening.
A woman brought the dogs to the LAPD's Olympic Community Police Station, just northwest of downtown, around 6pm.
Lady Gaga's representative and detectives went to the station and confirmed that they were the dogs.
Captain Johnathan Tippett, commanding officer of the Elite Robbery-Homicide Divisision said the woman who dropped off the dogs appears to be 'uninvolved and unassociated' with Wednesday night's attack. It's not clear how the woman obtained the dogs.
The sudden breakthrough came just hours after Lady Gaga broke her silence over the incident in which armed men shot her dog walker, and kidnapped two of her French bulldogs, calling her employee 'a hero forever'.
The singer praised the dog walker, 30-year-old Ryan Fischer, saying he 'risked your life to fight for our family. You're forever a hero.'
Fisher was shot once by one of them, and the men drove off with two dogs. A third dog, Miss Asia, escaped and was later found by police. Fischer survived the single gunshot and is in the hospital where he is in a stable condition.