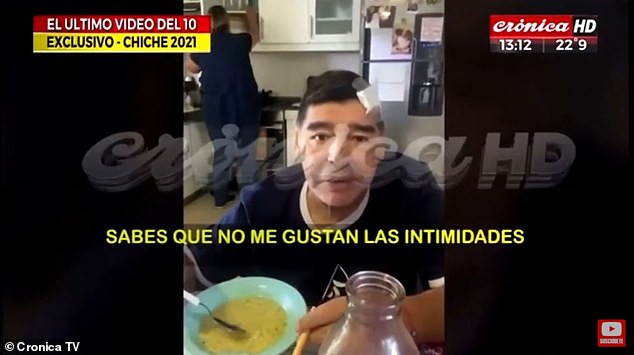 Diego Maradona slurs his words and admits: 'I'm bruised' in a shocking last video of the Argentina icon taken just days before he died.
The former Naples and Barcelona star, his head still bandaged after an operation on a brain blood clot, appears to struggle to find his words at times as he sends a message to his doctor from the kitchen of the rented home where he died.
Maradona admits: 'I'm bruised but okay. You know I don't like intimacies but when I'm with good people I come out of my den.'
Showing he still had a sense of humour despite his obvious discomfort, he signed off by joking his message was meant for a retired Argentinian footballer whose name is almost identical to that of his controversial medic Leopoldo Luque.
Speaking as he tucked into a bowl of soup alongside ex-girlfriend Veronica Ojeda, who was filming the selfie video, he said: 'A kiss Luque. Leopoldo Jacinto Luque.' to laughter from his ex sat beside him.
His cook Romina Milagros Rodriguez, who revealed at the weekend she was asked to give Maradona mouth-to-mouth after he suffered cardiac arrest, could be seen in the background.
The astonishing footage, published by Cronica TV, has been described in Argentina as the last footage of Maradona before he died on November 25 from heart failure.