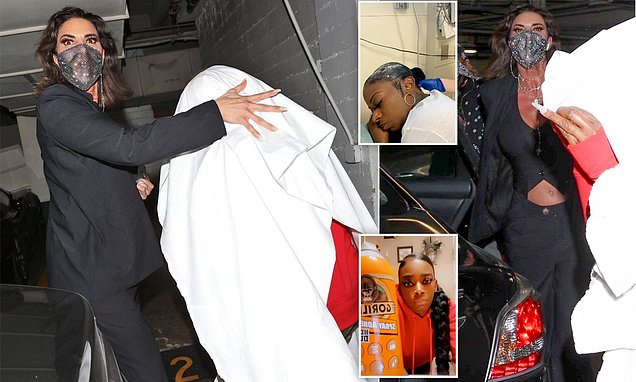 A woman who styled her hair with Gorilla Glue has received her first treatment from a Los Angeles plastic surgeon who claims he can fully remove the adhesive from her hair and scalp.
Tessica Brown, 40, from Violet, Louisiana, flew into Los Angeles on Wednesday and was whisked straight to the offices of plastic surgeon Dr. Michael Obeng for the first treatment of an expected three-day procedure.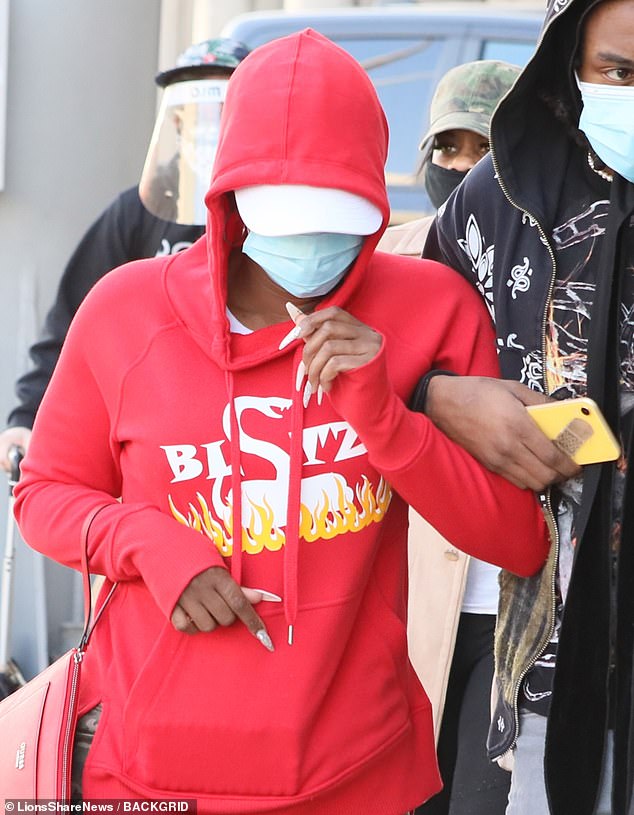 As she left the doctor's appointment, Tessica's head was hidden from prying eyes by a white sheet while she was ushered into a waiting vehicle with tinted windows, with the mother of five getting the celebrity treatment even after saying she never intended to go viral with her plight.
Obeng, the director of MiKO Plastic Surgery, has said that he offered to help Tessica after her ordeal made national headlines, and is providing the treatment that would normally cost $12,000 for free.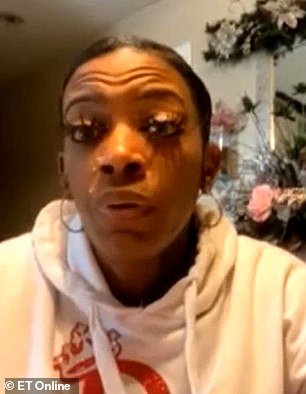 The mother-of-five noted that she has been suffering from 'extreme headaches' and was warned by doctors that she may have permanent scalp damage.
She denied reports that she spent 22 hours in the ER, explaining that she was told it would take them roughly 20 hours to remove the glue at the hospital.
The working mom, who owns Tessica's Little Angels daycare and runs the Dazzling Divaz dance team, made the decision to use the acetone wipes at home because she couldn't be away from her kids for that long.
Tessica admitted that the scrutiny and criticism that she has received has made her wish that she never posted the video.
Tessica especially took offense to claims that she purposely sprayed the glue on her hair because was seeking online fame.
'Who in their right mind would say, 'Oh well, let me just spray this in my head and become famous overnight?" she asked. 'Never! Who would want them to do that? I needed somebody to tell me how to take this off, that's all it was.'
However, she explained that what has been most hurtful — for both her and her school-age daughters — is being publicly branded 'Gorilla Glue Girl.'
'My name is Tessica,' she said. 'Every time somebody puts up something on social media, that's it, my inbox is flooded. Don't worry about this thing. Yeah, y'all can say that.
'This is what my momma keeps telling me, 'Stop reading the comments.' But I can't help myself. I go read them, and they're still sending me clips of what happened…It's way, way, way, too much.'
Tessica said the unwanted media attention has negatively affected her daughters, recalling how her one little girl wouldn't let her do her hair the other day.
Despite the onslaught of criticism, the mom has also received plenty of support, including messages from Missy Elliott, Chance the Rapper, and Beyoncé's hairstylist, Neal Farinah, who offered her a wig. 
Tessica said she decided to leave the ER and continue the acetone treatment at home. On Tuesday, she had her ponytail hacked off, but nothing has worked
'A lot of people want to give me hair,' she said, 'but the reason I wasn't accepting it is because I don't want people to be like, 'Oh, that's why she did it."
Since Tessica first shared her story last week, she has racked up hundreds of thousands of followers across her social media accounts. She now has more than 866,000 fans on TikTok and over 756, 000 on Instagram.
Her Instagram account has even been verified with a blue check, something that is usually only given to celebrities and public figures.
She has also updated her bio to include an email address for her new manager — suggesting that she may have already been sent partnership opportunities by brands eager to capitalize on the viral interest surrounding her sticky saga.
Tessica started a GoFundMe account with a goal of $1,500 to buy the wigs she was told she would need, but she has raised more than $18,000 in donations as of Wednesday. 
Throwback: Tessica used to wear her hair in braids before switching up her look