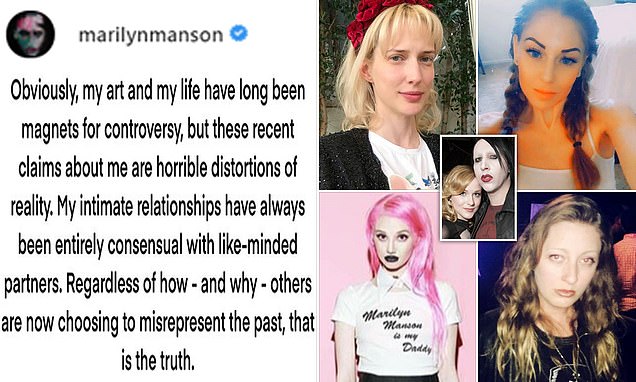 Marilyn Manson has branded the sexual abuse allegations against him 'horrible distortions of reality' as he broke his silence on Instagram on Tuesday.
The rocker, 52, has spoken out after at least five women – former fiancée, Westworld star, Evan Rachel Wood, 33, an artist known only as Gabriella, Ashley Walters, Sarah McNeilly, and Ashley Lindsay Morgan – claimed they had been victims of sexual misconduct, manipulation, and physical and emotional abuse at his hands.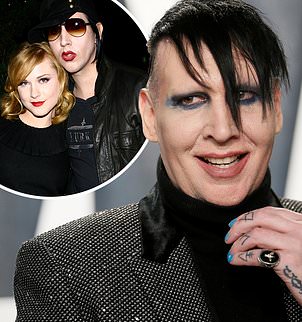 The women's allegations vary but all say Manson, whose real name is Brian Warner, left them with PTSD after forcing them into blood pacts, plying them with drugs, becoming violent with them and gaslighting them.
Manson insisted all his relationships have been 'entirely consensual' and accused the women of trying to 'misrepresent the past' after he was dropped by his record label.
He said in a statement posted on Instagram: 'Obviously, my life and my art have long been magnets for controversy, but these recent claims about me are horrible distortions of reality.
'My intimate relationships have always been entirely consensual with like-minded partners. Regardless of how — and why — others are now choosing to misrepresent the past, that is the truth.'
Comments were turned off the post but it was liked by the Rock is Dead hitmaker's wife, Lindsay Usich.
In a statement, Evan accused Manson of 'grooming' her when she was a teenager, and alleged he 'horrifically abused' her throughout their relationship. And four other women have made statements.
Fellow ex-fiancée Rose McGowan professed she 'stands with' Evan Rachel Wood after she came forward with the allegations against the shock rocker.
In the wake of the allegations, Manson has been dropped by his record label, Loma Vista Recordings, and fired from his role in American Gods.
Wife: Manson is now married to artist Lindsay Usich. They got married in lockdown in February 2020 and she has 'liked' his statement