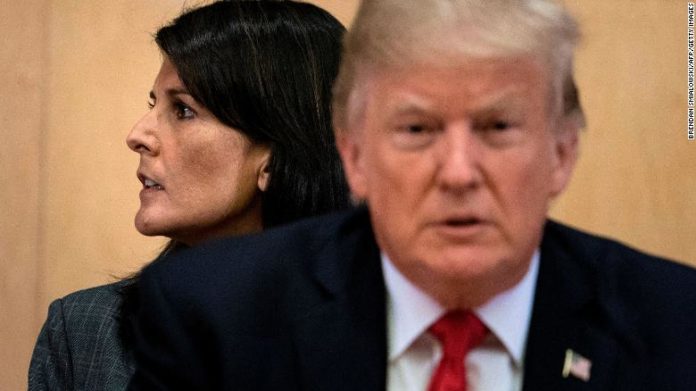 Former US ambassador to the United Nations Nikki Haley directly criticized former President Donald Trump for his involvement stoking the US Capitol riot in a new interview. A notable condemnation from someone who is widely viewed as harboring presidential hopes in a party that is still in thrall to Trump.
"We need to acknowledge he let us down," she told Politico magazine in an interview published Friday. "He went down a path he shouldn't have, and we shouldn't have followed him, and we shouldn't have listened to him. And we can't let that ever happen again."
Haley has often attempted to walk a fine line between allying herself with Trump — who remains a hugely popular figure within the party — while distancing herself enough to appeal to his Republican and moderate critics. She notably left his administration in 2018 on good terms with Trump, a contrast to many other officials who have publicly fallen out with their former boss.
In the Politico piece, Haley expressed anger over Trump's treatment of former Vice President Mike Pence on January 6 and said she hasn't spoken with Trump since then. Trump attacked Pence on Twitter that day for doing his duty of presiding over Congress' counting of the Electoral College votes, as the mob of supporters broke into the Capitol hoping to stop the certification, some of whom chanted death threats against Pence.
"When I tell you I'm angry, it's an understatement," Haley told Politico. "Mike has been nothing but loyal to that man. He's been nothing but a good friend of that man. … I am so disappointed in the fact that [despite] the loyalty and friendship he had with Mike Pence, that he would do that to him. Like, I'm disgusted by it."
She did, however, say that she believes "impeachment is a waste of time." A majority of Senate Republicans have signaled that they will vote to acquit Trump, and removal from office requires a two-thirds vote in the chamber.
Asked how Trump should then be held accountable, Haley replied, "I think he's going to find himself further and further isolated."
"I think his business is suffering at this point. I think he's lost any sort of political viability he was going to have. I think he's lost his social media, which meant the world to him," she continued. "I mean, I think he's lost the things that really could have kept him moving."