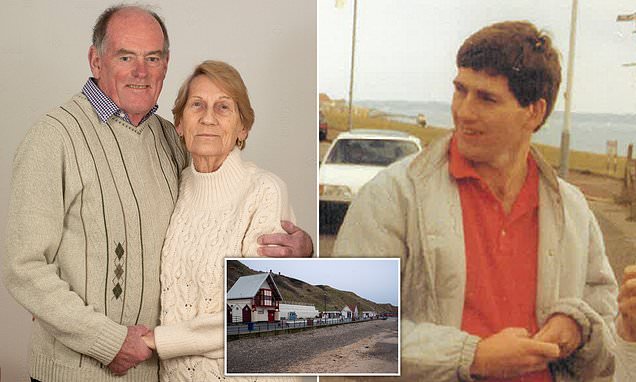 Charles and Doris Clark are furious about their flowerbeds, among other things.
Charles, 78, is cross that he has been unable to get behind his garden shed ('they moved it and they didn't put it back right'), or use the rotary washing line, which was reinstalled but too close to the fence to be of use.
'The police dug up the whole garden,' he says. 'They came in with mechanical diggers. They'd already been through the house; every cupboard turned out. They thought they'd find Steven — or his remains — and of course they didn't. And they won't: not because we've hidden his body well but because we didn't kill our son. It's a joke that they thought we did.'
Of course, it is not a joke at all.
The Clarks are picking up the pieces after an extraordinary police investigation in which they were arrested and accused of murdering their son.
Steven went missing 28 years ago, seemingly on a post-Christmas walk with his mum. Mother and son stopped to use public toilets on the promenade at Saltburn-by-the-Sea, North Yorkshire, and Doris claims she never saw Steven, who was then 23 and had some physical impairments as a result of a childhood accident, come out again. He simply vanished.
For nearly three decades, the case had lain in the police files. There is ample evidence that the Clarks — both former police officers; they met while on the force in the Sixties — never stopped looking for him. They took part in several TV shows about the families of missing people and, they claim, urged the police to do more to help them. Yet, nothing.
Until one Monday morning last September, when there was a knock at the door of their neat home in Marske-by-the-Sea and they discovered that a reopened investigation had taken a terrifying twist, with them directly accused of his murder.
'That's when the nightmare began,' says Doris. 'It was 8am. I was still in my dressing gown, laying the table for breakfast. Charles was in the shower. There was a knock at the door and a policewoman was there, in uniform. She said it was about Steven.'
Five officers, the others in plain clothes, were soon in the house as Charles came downstairs. 'He had an orange towel around him, would you believe,' says Doris. 'The woman said: "You are under arrest for the murder of your son." Charles said something like "is somebody having a joke?" and I don't know what I said. It was unreal. You don't expect to be accused of murder, on a Monday.'
So began an ordeal which — given that the elderly couple were told this week they were no longer suspects — beggars belief. This is the first time they have told the full story and it veers between horror and farce.
'Someone did say "you were on the police", meaning I'd be familiar with all these things, but I have to say I felt ignorant and naive. They took us to the police station in different cars,' Doris recalls. 'They took my fingerprints. They put us in separate cells.
'They did allow the door to stay open, with a guard at the end. There was a toilet in there and you could shut the door to use it, for privacy. But it was humiliating, degrading.
'In the interview, they were aggressive. They said to me: "You killed your son. You are a murderer! You are a violent woman and a murderer!" '
Her husband is still livid. 'They treated us appallingly. They said Doris had done it and I'd got rid of the body. I'll tell you right now, my wife is a gentle woman. She couldn't kill anyone, let alone Steven. Haven't we been looking for him for all these years? Why would we do that if we'd buried him in the garden?
'This whole thing has been a shambles. They took away our computer, phones, Doris's iPad. We still haven't got lots of things back. They took my bowling club files, for God's sake. What the heck do my bowling files have to do with Steven?'
The Clarks were questioned, under caution on both the Monday and the Wednesday of that week, and released on bail. That Friday, their house was searched. 'I opened the front door and got the shock of my life,' says Doris. 'There was a ginormous incident van and maybe 12 police cars. These people came in wearing combat boots. It was unbelievable.'
The couple had to move to a hotel while the search went on.
Was Doris not hysterical? Most women accused of murdering their child would be. 'No,' she says. 'I couldn't take it in.
'When I'd finished the interviews I remember standing up and just shaking, from the top of my head to the tip of my toes. Through the whole thing Charles kept saying that it would be over soon because we were innocent and there was no way anyone could say otherwise, but I kept thinking of prison.'
Obviously this is the couple's version of this story. But in the absence of any explanation from the police (who say they cannot comment on an ongoing investigation), it seems utterly baffling why they were suddenly so convinced the Clarks had killed their son.