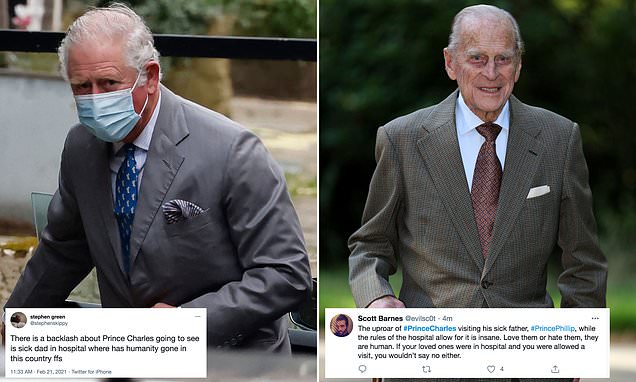 Social media users have urged others to 'remember their humanity' after Prince Charles was criticised over his 200-mile round-trip drive to visit the Duke of Edinburgh in a London hospital.
The Prince of Wales arrived at the back of King Edward VII's hospital in Marylebone at around 3.30pm on Saturday to visit his father, 99, who was admitted last week as a 'precautionary measure'.
The hashtags #princephilip and #princephillip have been trending on Twitter this morning, with many criticising the heir-to-the-throne's visit during the ongoing lockdown in England.
One Twitter user said: 'I do hope Prince Phillip gets better but why was Prince Charles allowed to visit his father in hospital when families all around the country are not getting to visit their loved ones who are in hospital when it's not COVID related?'.
Many leapt to the defence of the Prince of Wales, with several insisting they do not 'begrudge' the royal's journey, saying he was simply 'going to see his sick dad in hospital'.