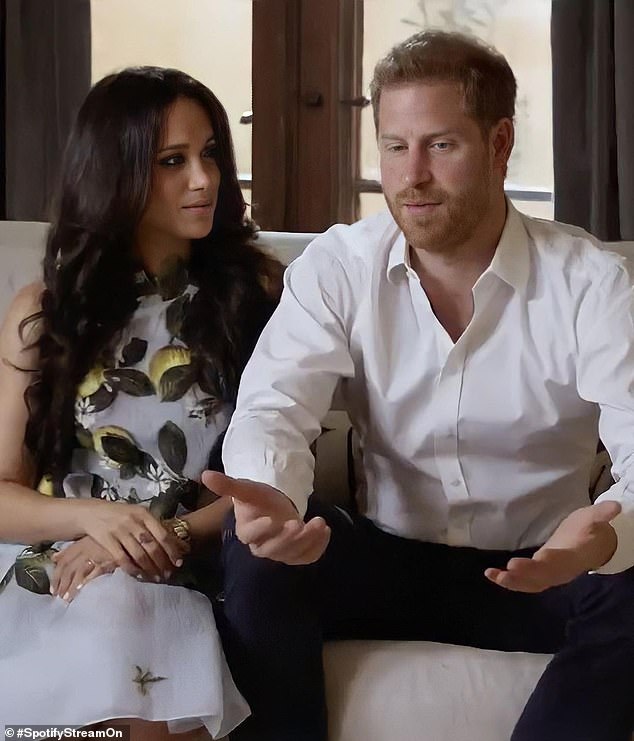 Prince Harry and his pregnant wife Meghan Markle have made their first appearance since quitting the royal family and announcing their second child together.
The couple, who were last Friday stripped of their remaining royal titles and patronages, recorded a 20-second video to plug their Archewell Audio podcast at a Spotify live stream event broadcast today.
The Duke and Duchess of Sussex last year announced they had secured a deal with the music streaming giant, thought to be worth up to £30million. It was commercial deals such as this that put the couple at odds with the impartiality required of those in public service and seemingly led to the permanent split with the Firm.
In the brief appearance, Meghan, 39, gushes that they are 'using podcasting to drive powerful conversations', before Harry, 36, chimes in 'that inspire, challenge and educate'.
'We created Archwell audio to make sure we can elevate voices that maybe aren't being heard and hear people's stories,' Meghan, who was wearing a £2,645 Oscar de la Renta dress, continues.
Harry finishes: 'And the biggest part of this is trying to create this community of where you can share, that will encourage everybody else to then share their own vulnerabilities in that safe space.' It is unclear when the video was filmed.
It comes just hours after it emerged Harry and Meghan's incendiary interview with their friend Oprah Winfrey may have to be re-edited or even partially re-shot due to the rift it has caused with the royal family and 99-year-old Prince Philip's hospitalization.
View this post on Instagram
Harry and Meghan appeared at the live streamed event alongside celebrities such as Bad Guy hitmaker Billie Eilish and Korean girl group Blackpink.