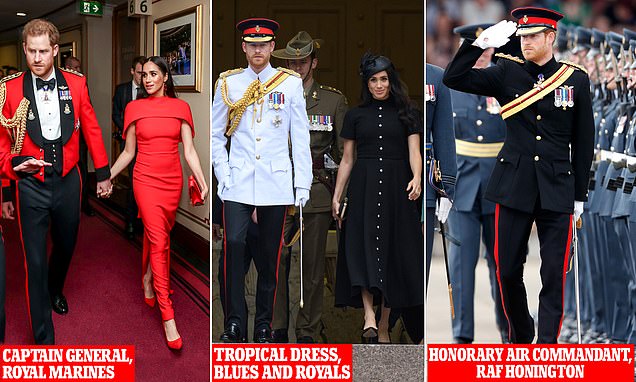 The Duke of Sussex could be banned from wearing his military uniforms at future engagements when the Queen strips him of his patronages and Armed Forces titles – with an announcement expected to be brought forward.
Prince Harry would still be allowed to wear his medals, including his Operational Service Medal for Afghanistan and those for the Queen's Golden and Diamond Jubilees, but could be prevented from wearing his uniforms.
The 36-year-old royal is known to cherish his role as Captain General of the Royal Marines. He is also honorary air commandant of RAF Honington in Suffolk and the Royal Navy's commodore-in-chief of Small Ships and Diving.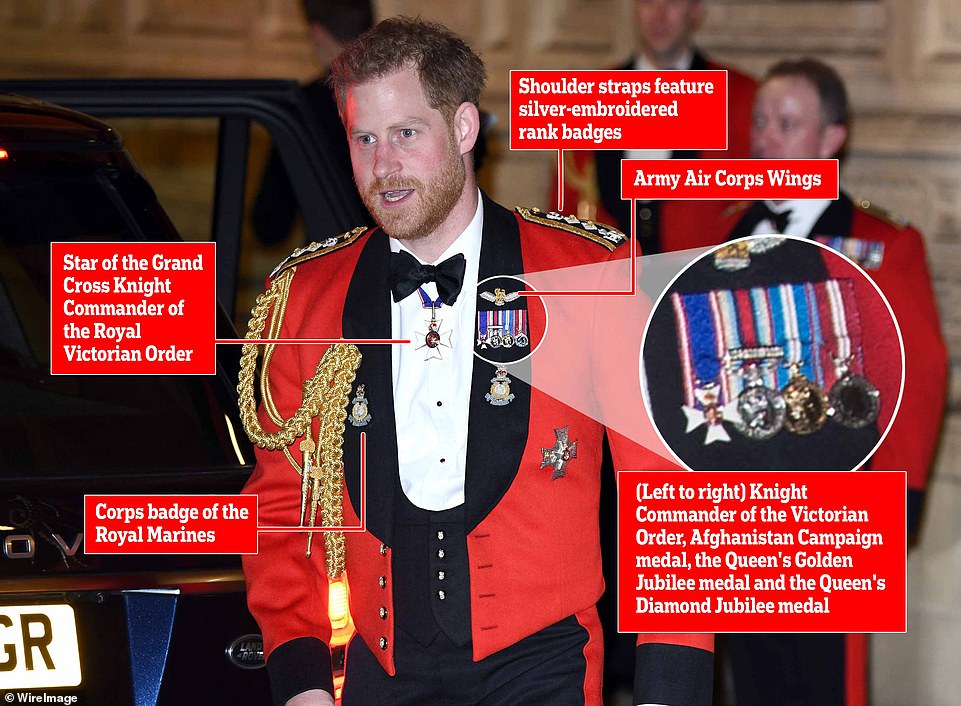 Harry has at least two ceremonial uniforms for his roles in the Forces, but has also worn a variety of military outfits in previous years before his appointment to his current three positions – as well as when he was in active service.
He has previously attended events in the white Tropical Dress of the Blues and Royals, which he wore in Australia and the West Indies, and the Blues and Royals frockcoat which he was dressed in for his wedding in May 2018.
But he is now expected to lose the three honorary Forces titles –  a decision which is said to have left him 'upset', while his wife Meghan is set to lose her National Theatre role following the one-year review period after Megxit.
Buckingham Palace is now expected to bring forward the final announcement from the Queen on what will happen at the end of next month to avoid any further speculation and uncertainty, reported the Daily Telegraph.
Retired Armed Forces personnel in Britain are allowed to wear their medals but generally not their uniform at official engagements. Harry had been allowed to wear his uniform for engagements because of his honorary titles.
The ban on military uniform following retirement is not automatic – with a procedure in place for exceptions at certain appropriate occasions, which would feature high-level discussions about a specific individual and event.
In Harry's case, him still wearing military uniform instead of civilian clothes despite losing his titles would therefore be a Buckingham Palace decision following a conversation with the Ministry of Defence's ceremonial team.
The nearest precedent to this is when the Queen specifically allowed Harry to keep his beard for his wedding to Meghan at Windsor Castle despite it being customary to be clean-shaven when wearing military uniform.
Among the decorations on his military uniform are his Army Air Corps Wings, which he received in 2010 upon completion of advanced helicopter training. He normally wears these on his left side, above the military medals.