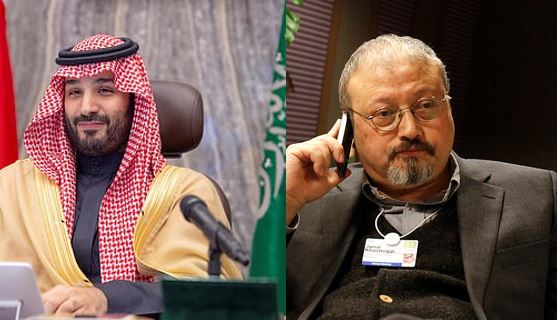 The Biden administration released a declassified report by U.S. intelligence Friday that concludes Saudi Arabia's Crown Prince Muhammad bin Salman 'approved' the operation that killed Jamal Khashoggi.
Despite the unequivocal conclusions of the assessment, the administration stopped short of imposing any diplomatic or economic sanctions directly on the crown prince himself.
But in a policy announcement that followed the release of the intelligence assessment, the Treasury Department said it would sanction Saudi individuals and the crown prince's Rapid Intervention Force, but not the crown prince.
Secretary of State Antony Blinken released a statement stating the world was 'horrified' by Khashoggi's killing, and announcing a new 'Khashoggi ban' visa restriction on people linked to 'counter-dissident activities.'
He said the government has taken action against 76 individuals, but did not identify Khashoggi.
The assessment, which is dated Feb. 11th and says it was declassified Thursday, cites the 'control' MBS holds over the security apparatus in the kingdom, where he is considered the most powerful figure.
This video grab made on October 10, 2018 from CCTV footage obtained from Turkish news agency DHA shows Saudi journalist Jamal Khashoggi (R) arriving at the Saudi Arabian consulate in Istanbul on October 2, 2018 but he never came out.
It says the crown prince has 'absolute control of the Kingdom's security and intelligence organizations, making it highly unlikely that Saudi officials would have carried out an operation of this nature without the Crown Prince's authorization.
It cites 'the crown prince's control of decision-making in the kingdom.'
Its release ads another chapter to the horrific killing of Khashoggi in 2018, and poses a challenge to U.S. relations with a strategic ally, major arms purchaser, and oil power.
It was declassified by Director of National Intelligence Avril Haines.