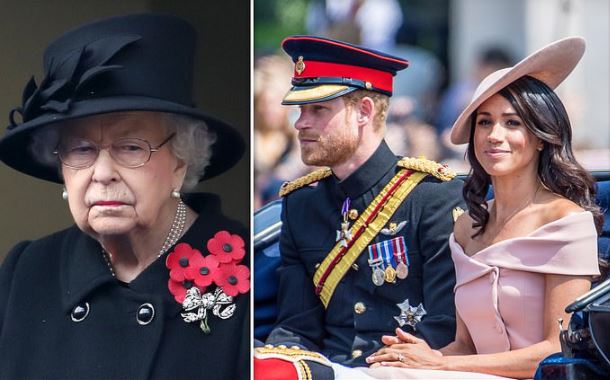 'Disappointed' Prince Harry and Meghan Markle thought they could keep their patronages, sources revealed this evening, after the Queen announced that the couple would be permanently quitting the Firm – a month before their Megxit arrangement was up for review.
The monarch said she was 'saddened' by the decision to strip them of their remaining honorary roles but firm that their new life in America meant they could not perform the 'duties that come with a life of public service'.
The Duke and Duchess of Sussex then issued an extraordinary statement just minutes after Her Majesty's declaration this afternoon, in which they claimed 'service is universal'.
Now it has also emerged that Harry and Meghan had 'absolutely, no question' wanted to retain the positions they had lost.
A source said: 'They do respect the decision but they always made clear they were committed to doing the roles.'
It comes after the Sussexes hit back at the Queen with their own statement via trusted media partners such as their biographer Omid Scobie, and in a thinly-veiled dig said: 'We can all live a life of service. Service is universal.'
Meanwhile royal author Penny Junor said the couple's response 'sounds petulant' and described it as 'two fingers at the institution – the men and women that run it'.
She added: 'I don't think it would be to the Queen because I imagine they think the Queen is being advised, which she is.'
Meghan, Harry and the Queen at an awards ceremony at Buckingham Palace on June 26, 2018
Ms Junor described the conclusion to Megxit as the final step in a troubled divorce proceedings, following on from Harry and Meghan quitting as senior working royals last year.
'It does draw a line. It's hurtful but every divorce is hurtful. This is the decree absolute,' she said.
Ms Junor added that the conclusion to Megxit could act as a blueprint for future spares to the heir.
'I do think it's very sad because we have now definitely lost Harry and Meghan – two very popular people who bought something more special.
'Harry and Meghan are obviously very upset, but I'm not quite sure what they expected.'
Their decision to quit royal life indefinitely came a month before the March 31 review of their life in LA, which has seen them strike multi million-pound deals with Netflix and Spotify this past year.
Relations were tested this week after Harry and Meghan announced a bombshell CBS interview with Oprah Winfrey which is expected to pore over the couple's sudden departure from the Firm.
Only a few days earlier they used a black-and-white photograph of them lying on the grass at their £11million California home to reveal Meghan was pregnant.
But royal experts said the couple had 'crossed the red line' by walking away from the monarchy and, with Prince Philip now preparing to spend his fourth night in hospital, left the Queen with no choice but to seize control.
In a rare statement she confirmed their eight military roles and patronages were being revoked and redistributed to 'working members of the royal family'.
Prince Harry and Meghan Markle released this picture on Sunday as they revealed Meghan is pregnant with their second child