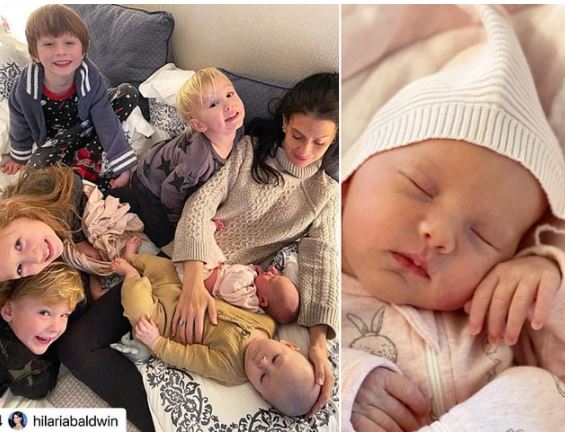 Alec Baldwin unleashed a furious tirade at Instagram trolls who questioned the paternity of his newborn daughter Lucia, telling one user to 'shut the f*** up' when asked about the arrival of his youngest child, whose birth was announced just six months after his wife Hilaria gave birth to the couple's fifth baby.
The 62-year-old SNL star told one Instagram user to 'shut the f*** up and mind your own business' on Monday evening after being asked 'who is the mother' of his baby girl amid furious speculation that the couple welcomed their daughter via a surrogate.
Alec and Hilaria announced the arrival of the baby girl on Monday, sharing an image of the newborn with her mother and siblings – but sharing no other information about her identity, or her birth, prompting some critics to accuse them of 'attention-seeking' and 'clickbait'.
'Who's the mother? She wasn't pregnant. She gave birth six months ago,' one commenter wrote. 'If it was a surrogate just say that. If the baby was adopted just say that. If the baby was a product of an affair and you've decided to raise it with your wife just say that.
'If you don't want to say anything – why don't you both stop constantly posting and begging for clickbait. Just raise your 100 children in private.'
In a since-deleted reply, Alec furiously clapped back, writing: 'You should shut the f*** up and mind your own business.'
He made the same comment to another user who wrote 'yikes' beneath the photo that he shared of his wife and their six children: Carmen, seven, Rafael, five, Leonardo, four, Romeo, two, Eduardo, six months, and newborn Lucia.
'I believe that people should simply say "Congratulations" or just shut the f**k up. That's it,' Alec wrote, before once again deleting the comment.