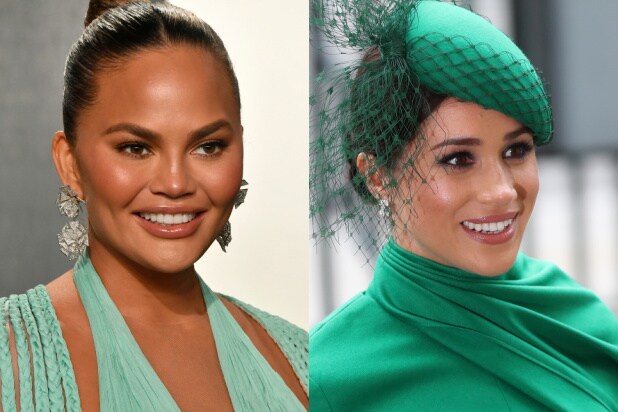 Chrissy Teigen has said that the media's aggressive treatment of Meghan Markle, who is currently pregnant with her second child, is "hitting too close to home" and fears the worst for her.
"[T]his meghan markle s— is hitting too close to home for me," Teigen tweeted Friday. "[T]hese people won't stop until she miscarries. f—ing stop it."
Teigen's comment comes amid bullying accusations against Markle and increased scrutiny of the former royal come ahead of her and Prince Harry's Sunday sitdown with Oprah Winfrey.
Teigen and her husband, John Legend, lost their unborn, third child, Jack, via miscarriage in late September. Teigen — who has been very open about her miscarriage, sharing her grief with friends and fans on social media in the months since losing the baby — is just one of many celebrities to come to Markle's defense in the wake of a U.K. newspaper report accusing her of "bullying" during her time at Kensington Palace.
On Sunday, CBS is set to air Meghan Markle and Prince Harry's first televised interview since they stepped aside from their roles as senior members of the royal family last year.
The two-hour interview with Oprah came with a price tag between $7 million and $9 million, according to a Friday report in the Wall Street Journal, citing multiple unnamed sources familiar with the deal. A spokesperson for the couple told WSJ that Harry and Meghan were not paid for the interview.