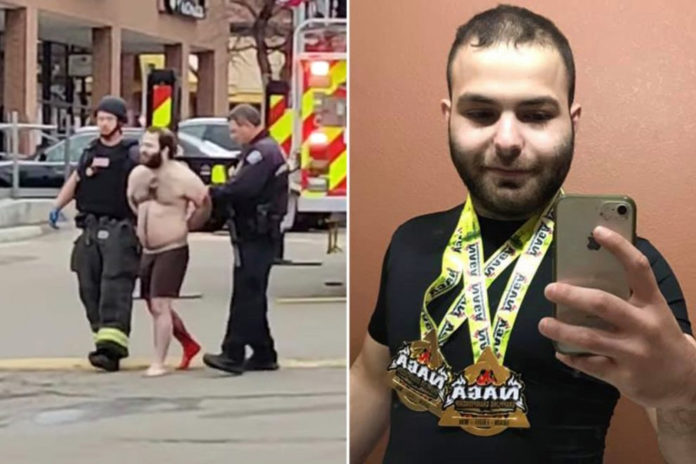 The suspect in the King Soopers shooting in Boulder, Colorado, has been identified as 21-year-old Ahmad Al Aliwi Alissa of Arvada.
He has been charged with 10 counts of first-degree murder, Boulder Police Chief Maris Harold said at a press conference on Tuesday, March 23.
The 21-year-old stormed the supermarket at about 14:30 local time began firing at shoppers. He also got involved in a gunfight with police and fired multiple rounds at them through at least 3:21 p.m. local time.
Alissa, who was shot in the leg, was in stable condition at an area hospital and was expected to be released later on Tuesday, officials said.
Police did not provide a motive but did identify the names of the 10 victims of the shooting, who range in age from 20 to 65 (Denny Strong, 20,  Nevin Stanisic, 23,  Rikki Olds, 25, Tralona Bartkowiak, 49, Suzanne Fountain, 59, Teri Leiker, 51, Officer Eric Talley, 51, Kevin Mahoney, 61, Lynn Murray, 62, Jody Waters, 65).
Boulder police officer, Eric Talley, was among the 10 victims killed in the shooting.
Rest In peace Officer Eric Talley. Your service will never be forgotten #BoulderShooting pic.twitter.com/FVximvhS2E

— Boulder Police Dept. (@boulderpolice) March 23, 2021
Boulder County District Attorney Michael Dougherty said Talley, who was the first officer on the scene, "died heroically."
"He died charging into the line of fire to save people who were simply trying to live their lives and go food shopping," he said. "And the man who gunned them down will be held fully responsible."
"I want to say to the community, I am so sorry this incident happened," Chief Herold said, "and we are going to do everything in our power to make sure this suspect has a thorough trial and we do a thorough investigation."