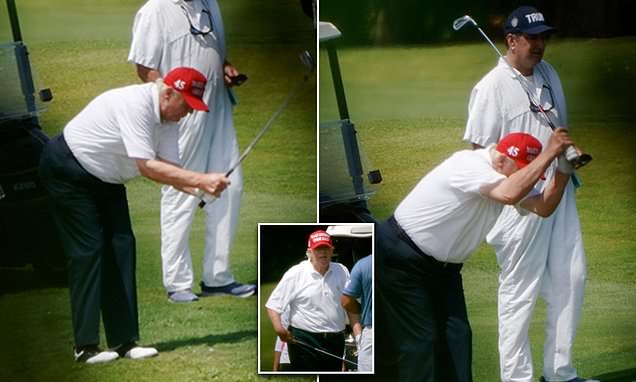 Donald Trump took his anger out on his golf club after a disappointing swing during his latest trip to the links.
Exclusive DailyMail.com photos show the former president at his Trump International Golf Course in West Palm Beach, Florida, on Sunday afternoon with a large group that included pro golfer Bryson DeChambeau.
Trump appeared in high spirits up for most of the outing – except at one point when he grew visibly frustrated at his performance.
He was seen thrusting his club into the ground in an apparent fit of rage after a big swing in front of his buddies.
Trump's frustration with his botched swing may have been fueled by the fact that he was being watched by DeChambeau, who boasts eight major wins on the PGA Tour.
The pair were seen chatting close together as they made their way through the course.