A man identified as DonKelly Onyeka has penned down an confession letter to a lady on Facebook, Ujunwa Olivia.
Narrating the evil he did to her in the company of four other gang members, he wrote;
"Since last year when I discovered her on Facebook, my life has not been the same. My family broke apart, my business scatter. I pray this open confession help me before I die. I did evil to a girl that did nothing to me and my friends.
We were five in number, I am the only person that enter her back. I am still hearing her shouting. I was the one inside before she now faint and we left her in the classroom.
After that we trace her and did it again two time after the first one. I keep seeing how you were running trying to escape but we catch up with you. I am sorry for what I did Uju please forgive me and have mercy on us. Three people have die since, left two of us.
I have been following your story and see how you struggle. I'm sorry Ujunwa I will reveal myself to you only if you are ready to forgive me. Believe me I have been paying for my evil since. I want peace that is why I am confessing here. To er is human, to forgive is divine".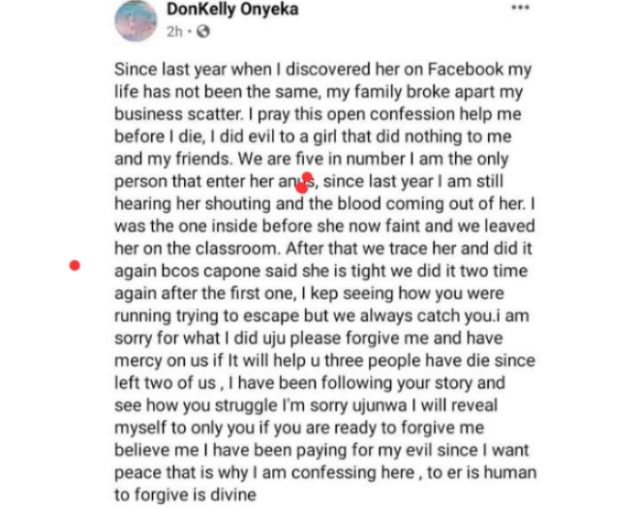 She says the confession brought back the sad memories but she's healing.
An old interview Ujunwa granted is now going viral. In the 2020 interview, Ujunwa, a 26-year-old undergraduate of Nnamdi Azikiwe University,  spoke about being born by a single mum, being sexually harassed by her stepfather and a number of other men, being disowned, being homeless, and becoming a single mum.
Friends have taken to Facebook to send messages of support to the rape victim.