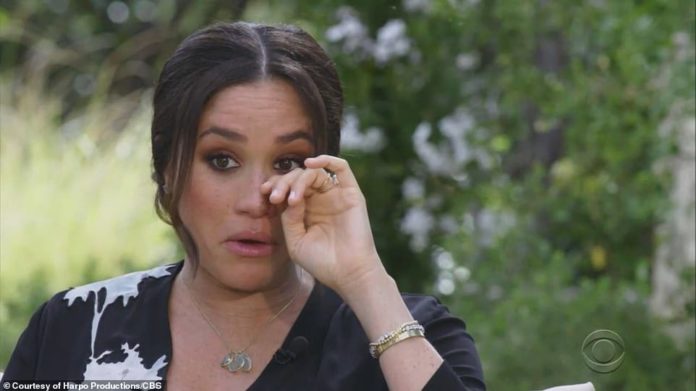 Meghan Markle has tearfully revealed that the stress of royal life made her suicidal when she was five months pregnant, claimed Archie was denied the title of prince because he is mixed-race and said Kate Middleton made her cry before she married Harry in today's bombshell interview with Oprah Winfrey.
The couple also chose to reveal that they are having a baby girl to the tens of millions of people watching the CBS show broadcast in the US before accusing the Royal Family of racism and revealing the deep rift 'Megxit' has caused with Prince Charles and Prince William.
The Queen is not believed to have watched the show, broadcast at 8pm Eastern Time in the US and 1am UK time, but will this morning be briefed by aides on the sensational claims made by her grandson and his wife that could badly damage the reputation of the Royal Family around the globe.
The Duchess of Sussex has told Oprah she 'couldn't be left alone' and told her husband she 'didn't want to be alive anymore' before claiming the Buckingham Palace HR department ignored her plea for help because she wasn't a 'paid employee'.
Describing how she considered ending her life believing it 'was better for everyone', Meghan said: 'I knew that if I didn't say it, that I would do it. I just didn't want to be alive anymore. And that was a very clear and real and frightening constant thought. I remember how he just cradled me. I said that I needed to go somewhere to get help. I said that 'I've never felt this way before, and I need to go somewhere'. And I was told that I couldn't, that it wouldn't be good for the institution'.
She said that after confiding in her husband, she was forced to go to the Royal Albert Hall for a charity event in January 2019, claiming photos from that night 'haunt me'. She told Oprah she later reached out to one of the best friends of Diana, Princess of Wales, because she felt unsupported by the palace.