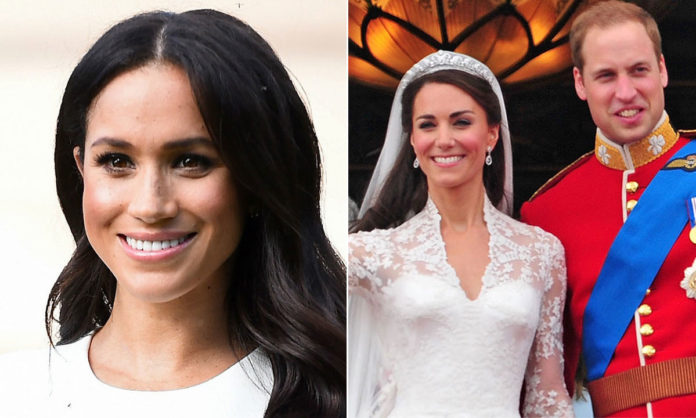 Meghan Markle blogged about Prince William and Kate Middleton's wedding years before claiming during her interview with Oprah Winfrey that she didn't know much about the royal family before marrying Prince Harry.
To defend her claims that she didn't know the extent of what she was getting into when she married Prince Harry, Meghan Markle said she hadn't researched her future husband and knew very little about the British royal family.
The American former actress explained to the TV mogul that she "didn't grow up knowing much about the royal family".
She also claimed she did not even know how to curtsey when she first met the Queen at The Royal Lodge in Windsor.
The Duchess of Sussex said: "It wasn't part of something that was part of the conversation at home. It wasn't something that we followed."
However, a post Meghan published on her now-defunct blog, The Tig, detailed Prince William and Kate Middleton's wedding. Meghan also wrote about her dream of becoming a princess.
In 2014, before meeting Prince Harry, Meghan wrote about "the pomp" surrounding Kate and William's 2011 wedding and how she grew up dreaming of becoming a princess.
The post reads in part: "Little girls dream of being princesses. I, for one, was all about She-Ra, Princess of Power.
"For those of you unfamiliar with the '80s cartoon reference, She-Ra is the twin sister of He-Man and a sword-wielding royal rebel known for her strength.
"We're definitely not talking about Cinderella here.
"Grown women seem to retain this childhood fantasy. Just look at the pomp and circumstance surrounding the royal wedding and endless conversation about Princess Kate."
Several of Meghan's childhood friends have claimed that she took a close interest in the royal family growing up, particularly Princess Diana.
Ninaki Priddy told The Sun that Meghan was "always fascinated" by the royal family and wanted to be "Princess Diana 2.0"
While royal biographer Andrew Morton said that when Meghan was 16, she watched the funeral of Princess Diana with "tears coursing down her cheeks".