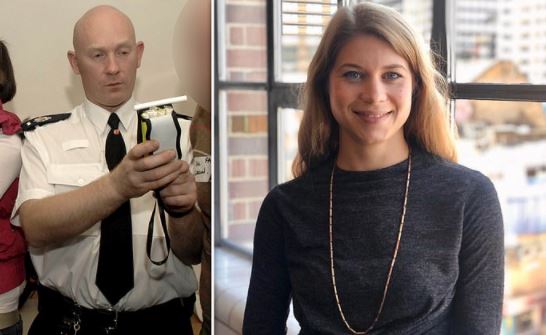 Police arrested one of their own officers over the murder of Sarah Everard after a CCTV breakthrough from a passing London bus as detectives also probe whether the suspect used his warrant card to lure her into his car, it emerged today.
Scotland Yard are also investigating whether Wayne Couzens used the current Covid-19 lockdown rules to stop the missing woman as she walked home to Brixton from her friend's home in Clapham, south-west London on March 3.
Couzens was arrested late on March 9 – six days after Miss Everard vanished 'into thin air' – when more than 20 officers raided his home on the Kent coast.
Police swooped over something they saw on CCTV on a London bus that passed Sarah as she walked towards Brixton, according to the Daily Telegraph.
Neighbours noticed a Land Rover parked close to policeman Wayne Couzens' house in the historic town of Deal, and thought it was being watched by two men inside.
Around two hours later up to two dozen officers hidden around the corner sprinted into the property.
A shirtless Couzens was led from the house in handcuffs with one witness saying: 'He looked very calm – just walked out'.
Scotland Yard insisted yesterday that the suspect was not on duty at the time of Sarah's disappearance.
But it has been claimed today that Couzens worked a 2 pm to 8pm shift at the US embassy close to Battersea Power station – less than three miles from where Miss Everard was last seen.
A police source told The Sun: 'The working hypothesis is that he saw Sarah on the street for the first time and kidnapped her.
'At this stage it is thought the officer used his warrant card to entice Sarah towards his car. One theory is that he may have used the Covid lockdown as a pretext to engage with her and then snatched her.'
The 33-year-old marketing executive 'vanished into thin air' after leaving a friend's house in Clapham, south London at around 9pm on Wednesday, March 3.
Wayne Couzens, a diplomatic protection officer based at the Palace of Westminster, was arrested on Tuesday night over the disappearance.
The father-of-two, 48, was yesterday being questioned over murder, kidnap and a separate case of indecent exposure.