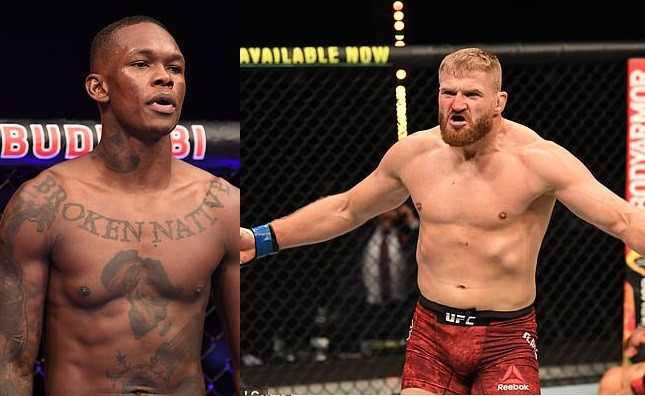 Israel Adesanya, the reigning UFC middleweight champion is set to take on Poland's Jan Blachowicz this weekend, a bout which his coach Eugene Bareman says will be the 'hardest fight' of his UFC career.
The New Zealand-Nigerian MMA fighter is preparing to move up a class to light heavyweight to challenge the Polish champion at UFC 259 in Las Vegas on Saturday night, March 6.
Adesanya, who boasts a 20-0 UFC record, will be hoping to beat Blachowicz and become the fifth only two-weight champion in UFC history.
Speaking ahead of the fight in an appearance on Submission Radio, Adesanya's coach Eugene Bareman, said: 'This is Israel's hardest fight by quite a bit.'
'I think this is a jump up from any of his previous challengers. And for all intents and purposes within our camp, we are building ourselves as the underdogs.
'And we're doing that based on we're giving away this size and weight advantage that we sometimes have in our favour. Now we're gonna give it away. So, it's just a very hard (fight).
'What we're about to attempt here is, people don't understand, a very, very difficult endeavour and a very risky one, and one that makes for all us coaches and Israel, it makes the hairs on the back of our necks stand up.
'Because this is a true, true challenge – a hefty challenge. And it's a scary one, and it's one that gets you up early in the morning and wanting to attack it
'And we've had a great camp because it's just a highly motivating fight. And it's a highly motivating fight because it's such a dangerous fight.'