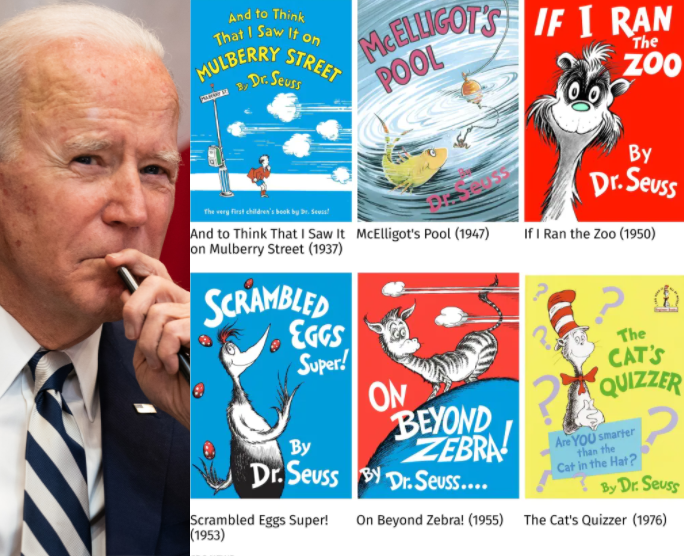 Parents have expressed outrage on Twitter after US President Joe Biden announced Dr. Seuss books will not be part of "Read Across America Day."
The US president decided to break tradition and erase Dr. Seuss books from his proclamation on Read Across America Day.
The Read Across America program was launched by the National Educators of America (NEA) in 1998 to promote children's literacy, according to MSNBC.
Amazon removed the six Dr. Seuss books from its online platform, and Dr. Seuss Enterprises told the Associated Press, the decision to cease publication and sales of the 6 books was made last year.
This is due to images that may be offensive to Asian people in the books titled "And to Think That I Saw It on Mulberry Street", "If I Ran the Zoo", "McElligot's Pool," "On Beyond Zebra!," "Scrambled Eggs Super!," and "The Cat's Quizzer."
Social media users who grew up reading Dr. Seuss books took to Twitter to express their outrage.
no one is "cancelling" dr seuss. they're just removing his offensive books from stores. and this is because his publisher wanted to do it, not because of twitter. 10 seconds of research could show you this. y'all are so annoying. #cancelcancelculture pic.twitter.com/yXxhkK0wJz

— ur boi (@oatm11lk) March 3, 2021
Dr. Seuss is just a test run. If we let the left cancel Dr. Seuss, we're next. Refuse to be canceled.

— Liz Wheeler (@Liz_Wheeler) March 3, 2021
Fox News is spending more time defending Dr. Seuss than they did defending actual doctors during the pandemic.

— The Good Liars (@TheGoodLiars) March 3, 2021
WTF is this all about.

Cruz is smart enough to know that Biden had absolutely no involvement with the decision of the Dr. Seuss estate to stop selling a few of his books. (Not any of these bestsellers.)

But Cruz thinks people are dumb enough that this will be effective. https://t.co/S2JZrfuuAo

— Judd Legum (@JuddLegum) March 3, 2021
Biden is responsible for banning Dr. Seuss. He didn't understand them.

— Juanita Broaddrick (@atensnut) March 3, 2021
We live in a society that embraces Cardi B and WAP, but somehow finds Dr. Seuss offensive.

— Trump's Black Grandson (@MrMichaelBurkes) March 3, 2021