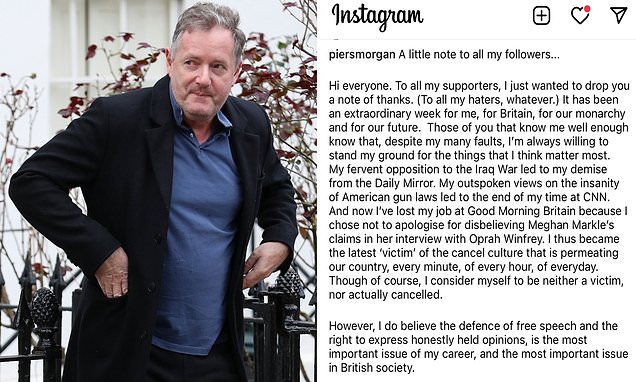 Piers Morgan today revealed he quit GMB after refusing to apologise for 'disbelieving' Meghan Markle's claims – as he warned free speech was the 'most important' issue in modern Britain.
In an open letter shared on Instagram, the tough-talking journalist thanked his supporters and declared he was 'willing to stand my ground'.
He wrote: I've lost my job at Good Morning Britain because I chose not to apologise for disbelieving Meghan Markle's claims in her interview with Oprah Winfrey.
'I thus became the latest ''victim'' of the cancel culture that is permeating our country, every minute, of every hour, of everyday. Though of course, I consider myself to be neither a victim, nor actually cancelled.'
Piers had said he did not believe the duchess's remarks in her interview with Winfrey, during which she spoke about her mental health and having suicidal thoughts.
The 55-year-old left his role shortly after storming off on set after a row with weatherman Alex Beresford over his comments on Meghan, which prompted more than 41,000 complaints to Ofcom.
In less than 48 hours, more than 100,000 people have made impassioned pleas calling for the presenter to be reinstated on ITV's flagship breakfast show.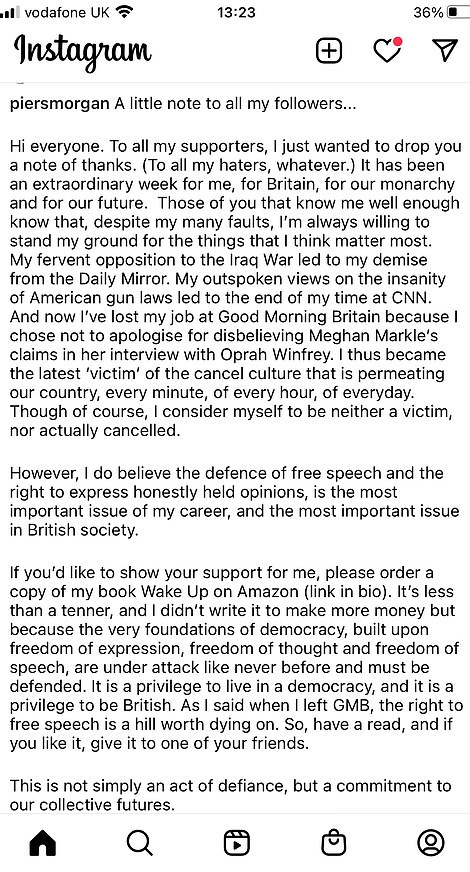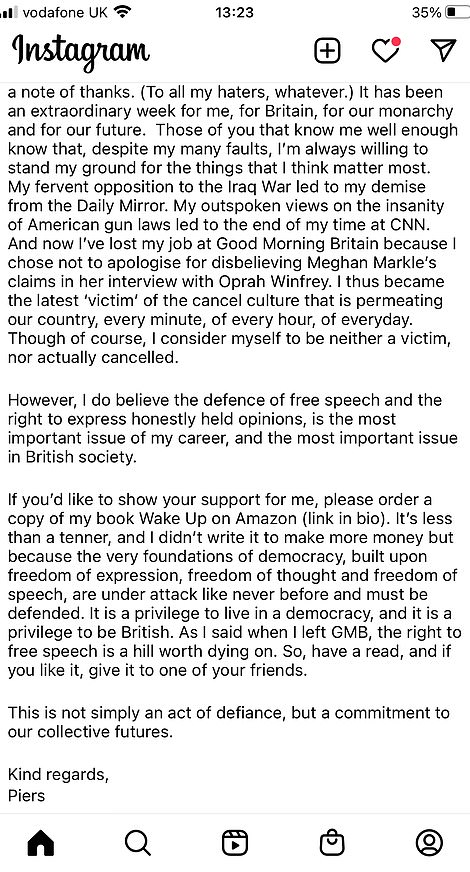 It comes after it was revealed Good Morning Britain lost 80,000 viewers the day after Piers quit – while its rival BBC Breakfast's audience grew by 200,000.
The outspoken GMB host, who quit over his stance on Meghan Markle, helped the show achieve its highest-ever ratings on Tuesday this week, with 1.29million viewers compared to the BBC's 1.25million.
One petition, called 'Bring Back Piers Morgan!', accused ITV of treating him 'appallingly' and another, 'Keep Piers Morgan on GMB for his common sense approach to life', now has more than 125,000 signatures.
A third, which has been signed by more than 40,000 people, describes his departure as 'an absolute farce'.