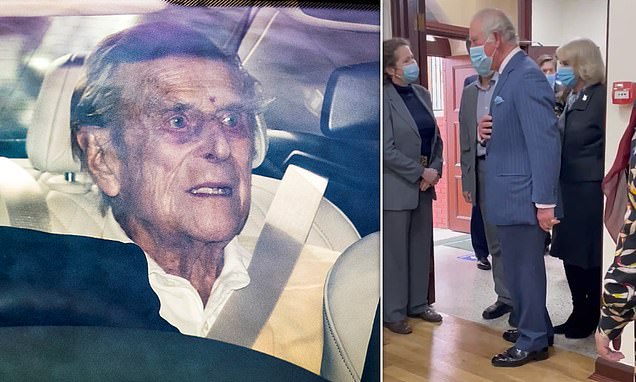 Prince Charles today said he was 'thrilled' that his father the Duke of Edinburgh had left hospital following a month under the care of medical staff after being admitted with an infection and later undergoing heart surgery. 
Prince Philip, 99, the nation's longest-serving consort, spent 28 nights as a patient in London at King Edward VII's Hospital and St Bartholomew's Hospital – his longest ever stay. Philip was initially admitted on a precautionary basis for an infection, before having a heart operation midway through his four-week period in hospital.
The 'Iron Duke' was photographed leaving King Edward VII's Hospital in Marylebone at about 10.30am today, with screens obscuring him in a wheelchair for the most part, before getting into a car and being driven away.
Philip, who is set to celebrate his 100th birthday in June, headed to Windsor Castle to be reunited with the Queen after a month without seeing her, arriving within less than an hour. Sources said the Duke was in 'good spirits'.
Charles, who was visiting a pop-up coronavirus vaccination centre at Finsbury Park Mosque in North London this afternoon, said he was delighted that his father was out of hospital, revealing: 'I am thrilled about it.' When asked if he had spoken to Philip yet, Charles replied: 'Oh yes, I have spoken to him several times.'
A Buckingham Palace spokesman said in a statement issued at about 11.45am today: 'The Duke of Edinburgh has today been discharged from King Edward VII's Hospital and has returned to Windsor Castle, following treatment for an infection and a successful procedure for a pre-existing condition.
'His Royal Highness wishes to thank all the medical staff who looked after him at both King Edward VII's Hospital and St Bartholomew's Hospital, and everyone who has sent their good wishes.'
The Duke was initially taken by car to King Edward VII's Hospital on February 16, after telling his doctor he felt unwell. But two weeks later he was moved to St Bartholomew's Hospital in the City of London by ambulance.
Philip will have much to catch up on with the Queen following a dramatic week that saw the Duke and Duchess of Sussex plunge the monarchy into a crisis by accusing a member of the Royal Family of racism – not the Queen or Philip – and claiming that Meghan Markle received no support with her mental health problems.
The Duke of Edinburgh underwent a successful procedure on a pre-existing heart condition at Barts on March 3, before returning to King Edward VII's Hospital a few days later to recuperate and continue his treatment.