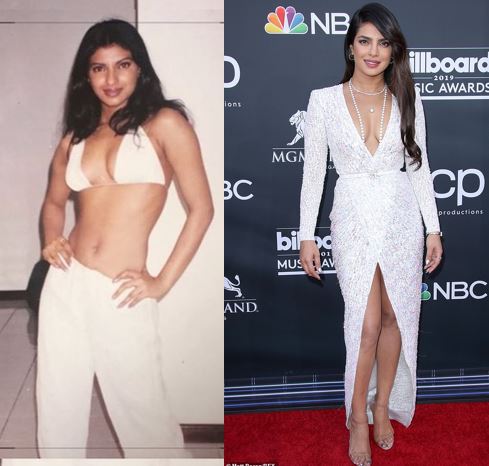 Priyanka Chopra shared another photo to social media where she did not look at all like she does today.
The Quantico star had on a white bikini top with matching slacks and her hair down as she smiled for the camera with her hands on her hips. She was in her late teens or early twenties at the time.
This comes after the 38-year-old wife of Nick Jonas shared in her new book that surgery on her nose due to a polypectomy altered her looks severely and made her the butt of jokes in her native India.
At the time she was a budding model who was stepping into the Beauty Pageant circuit.
Last month she told readers of her new memoir Unfinished she was once picked on for her looks after a nose operation didn't work out so well in the early 2000s.
That led to some haters calling the former beauty pageant queen 'Plastic Chopra.'
In this new flashback photo, the star looks slender and very confident which is why Chopra captioned the image: 'Shy? Never heard of her.'
She added the photo was for Throwback Thursday and popped on the hashtag for Bindis And Bikinis.