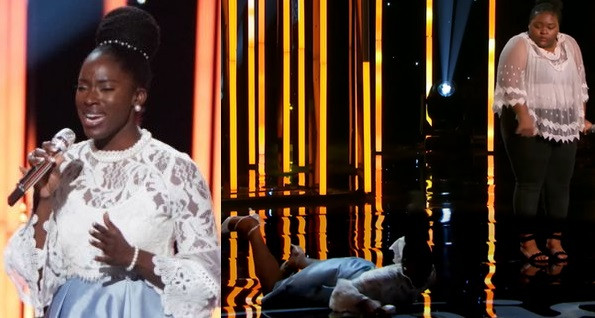 American Idol contestant, Funke Lagoke was rushed to the hospital after she fainted and fell flat on her face after her performance with fellow singer Ronda Felton on Monday night's episode.
The terrifying incident happened while she was receiving feedback from the judges after her performance with her fellow contestant and duet partner.
The pair performed 'Tell Him', a song written and recorded by Barbra Streisand and Celine Dion.
In a clip from the episode, Lagoke's hands can be seen shaking as judge Lionel Richie was critiquing their performance of "Tell Him."
"Funke, you got yourself to the end. The problem is … " Richie said before Lagoke fainted, landing with an alarming thud.
Richie and Panelist Luke Bryan immediately ran onto the stage to help staff members attend to Lagoke before she was rushed to the hospital.
"@gidifeedtv: Watch the terrifying moment American Idol Contestant Funke Lagoke passes out on stage while receiving Judges' feedback cc @Gidi_Traffic pic.twitter.com/TkMctWcd9S

— GIDITRAFFIC (@Gidi_Traffic) March 24, 2021