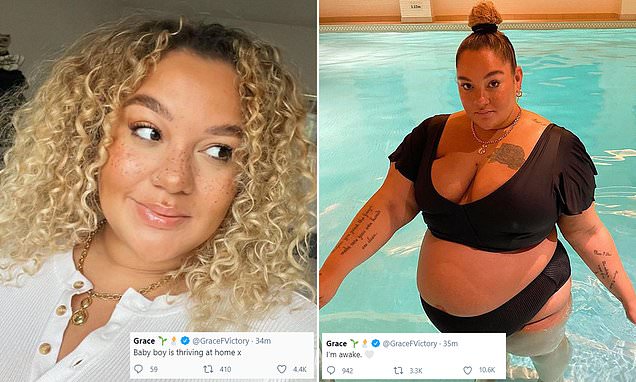 YouTuber Grace Victory is awake from the coma she was placed in at Christmas, a day after doctors were forced to deliver her baby two months early.
The British social media star, 30, from High Wycombe, tweeted earlier today to say she was 'awake', followed by a white heart on Monday afternoon, followed by a tweet saying: 'Baby boy is thriving at home x'
Grace developed the virus two weeks before Christmas while pregnant with her first child. She had mild symptoms at first, but her condition started to deteriorate.
Her family revealed that doctors induced her on Christmas Eve, before she was placed in a coma on Christmas Day as she continued to battle the virus.
Grace won fans with her candid videos addressing tough topics such as eating disorders and mental health.
After catching the disease at the start of December, her condition started to deteriorate.
Doctors decided the baby, which was not due until February, should be induced on Christmas Eve.
The baby was born healthy but a day later Grace was taken into intensive care after developing breathing problems.
The YouTube star was then placed in an induced coma as she continued to battle the virus.
Family and other social media stars took to Twitter to share their delight in the good news.
Grace's sister Charleigh tweeted the quote: 'I'm a woman phenomenally. Phenomenal woman, that's me,' before adding: 'Thank you God.'