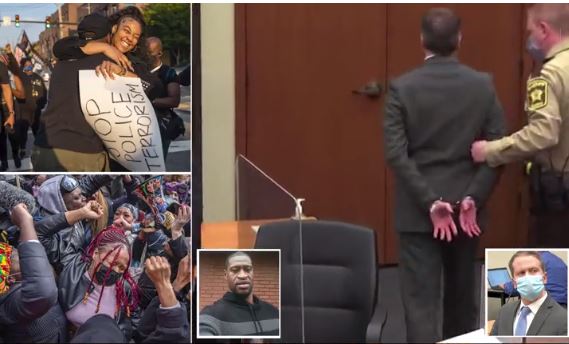 Derek Chauvin was last night taken to a maximum security prison and placed on suicide watch after being found guilty on all three counts of murder and manslaughter in the death of George Floyd.
The veteran cop was emotionless as Judge Peter Cahill read the jury's decision, which centred around nine minutes and 29 seconds of Chauvin kneeling on the unarmed black man's neck in May last year.
Cheers rose from crowds gathered outside the courthouse and down at the intersection of 38th and Chicago, now known as George Floyd Square, where the fatal arrest had taken place.
Joe Biden told the nation that the verdict sends the message that no one is 'above the law', as he demanded new action to honor Floyd after a killing he called a 'stain on the nation's soul.'
People celebrate Chauvin's guilty verdict, at the site where Floyd was killed in May, on Tuesday afternoon
Cheers rose from the crowds that had gathered outside the courthouse after the verdict was read