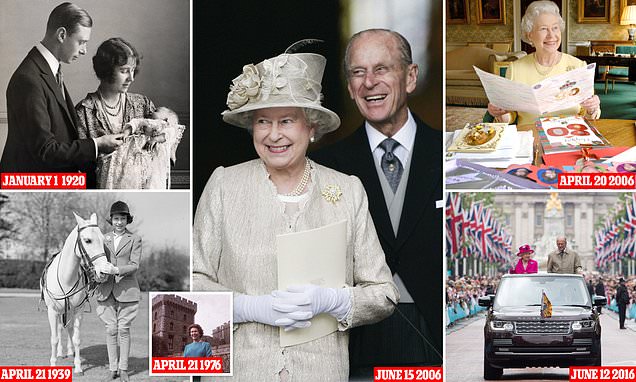 The Queen turns 95 today – just days after the funeral of her beloved husband Prince Philip –  as she spends her first birthday without him in more than seven decades.
The world's oldest reigning monarch will mark the day in a 'low key' fashion at Windsor Castle, according to sources, hosting a visit from close family members and walking her dogs.
Celebrations will be a subdued affair this year with no traditional gun salutes and no traditional birthday picture, as the Queen remains in mourning for her husband of 73 years, the Duke of Edinburgh, who she has called her 'strength and stay'.
Instead, courtiers are considering an 'alternative parade' in the quadrangle at Windsor Castle, similar to an event dubbed 'mini Trooping' that was held last summer.
Prime Minister Boris Johnson today lead tributes to the Queen, saying: 'I would like to send my warm wishes to Her Majesty The Queen on her 95th birthday.
'I have always had the highest admiration for Her Majesty and her service to this country and the Commonwealth. I am proud to serve as her Prime Minister.'