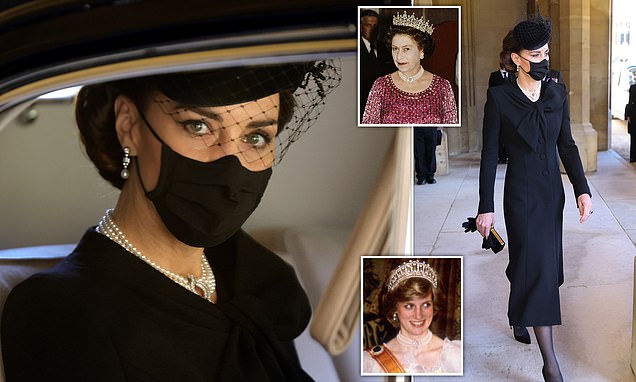 The Duchess of Cambridge was the picture of dignified grace in Her Majesty's jewels at the Duke of Edinburgh's funeral today. 
Kate Middleton paid a touching tribute to both the Monarch and to her own late mother-in-law as she wore the Queen's pearl choker, from Her Majesty's personal collection, to the poignant service in Windsor this afternoon.
The Japanese Pearl choker necklace was worn by Kate for the Queen and Prince Philip's 70th wedding anniversary dinner at Windsor Castle in 2017, and by her late mother-in-law Princess Diana in 1982.
The Queen loaned it to Diana, who loved pearls, for a banquet given by Queen Beatrix and Prince Claus of the Netherlands at Hampton Court Palace during the Dutch royal family's visit to the UK – one of her first royal engagements a year after her marriage to Prince Charles.
The Queen asked for the choker to be made from 'the finest cultured pearls' which were a gift from the Japanese government. It has four strands of pearls with a central curved diamond clasp.
The Monarch wore the choker in the 1980s and 1990s, and to a dinner celebrating former Prime Minister Margaret Thatcher's 70th Birthday in London in 1995.
The Duchess teamed a chic black £1,605 Roland Mouret dress with an asymmetrical neckline – the same she wore for the Royal British Legion Festival of Remembrance in 2018 – with a black face covering and a Philip Treacy velvet pillbox hat.
She paired her outfit with the Bahrain Pearl Diamond Drop Earrings which also came from Her Majesty's private collection, and were also worn by Diana in 1982. The earrings were crafted from pearls gifted to the Queen and Philip from the ruler of Bahrain at the time of their wedding in 1947. 
Mother-of-three Kate has not been seen since news of Prince Philip's death was announced last week but the official Kensington Royal Instagram account shared a photo of the Duke of Edinburgh with Prince George in tribute.
Though she has taken part in numerous royal events over the years, today was the first major royal funeral the duchess has attended.