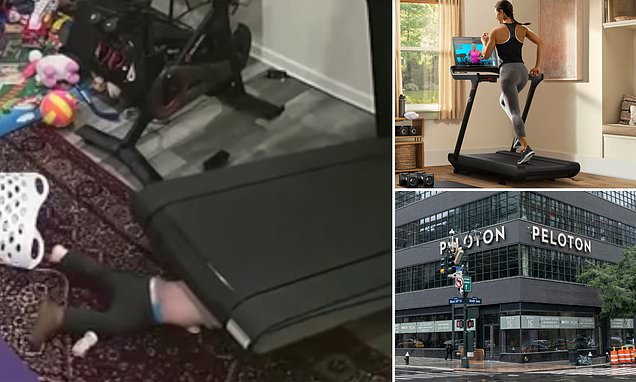 Federal regulators have released a terrifying video of a child being dragged under a $4,000 Peloton treadmill as they warned consumers to stop using the equipment after another child was killed and dozens have been injured.
The graphic video shows a young boy being sucked beneath a Peloton Tread+ and grappling to free himself from the exercise machine.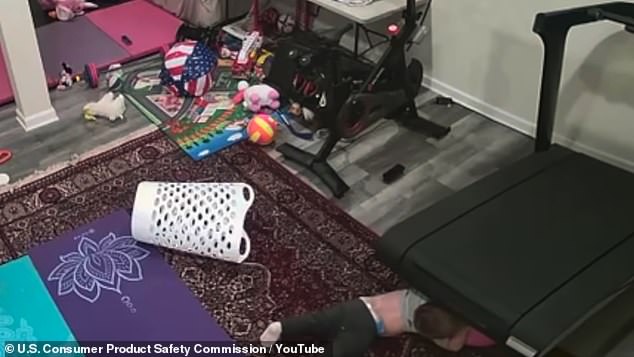 The footage was released Saturday by the US Consumer Product Safety Commission (CPSC) as part of an urgent warning to consumers about the dangers of the popular home fitness equipment.
In the harrowing video, a little girl is seen walking on the treadmill which is turned on.
A little boy then walks behind the exercise machine and picks up a big pink ball.
He holds the ball toward the back of the treadmill and the ball is seen being pulled under the machine, dragging the boy's arms with it.
This appears to cause the treadmill to stop moving as the boy's arms lift the machine slightly off the ground.
The little girl gets off the treadmill and dashes off out of view, while the boy appears to be stuck.
The treadmill moves again, slowly at first as it appears the boy is trying to resist it moving and pulling him further under the equipment.
At this point, the power of the machine appears to cause the little boy to shake and suddenly the treadmill resumes a faster speed, dragging the boy further underneath to his head.
He continues to be pulled under more and more until only his legs are sticking out as he appears to thrash his legs in an attempt to free himself.
The boy manages to pull himself back out from underneath the treadmill which continues to move and he is seen walking out of view away from the machine.
Safety regulators warned people with kids and pets Saturday to immediately stop using a treadmill made by Peloton after one child died and others were injured.
Peloton is fighting a federal safety recall and has allegedly delayed an investigation into potential safety problems it was revealed that a child died