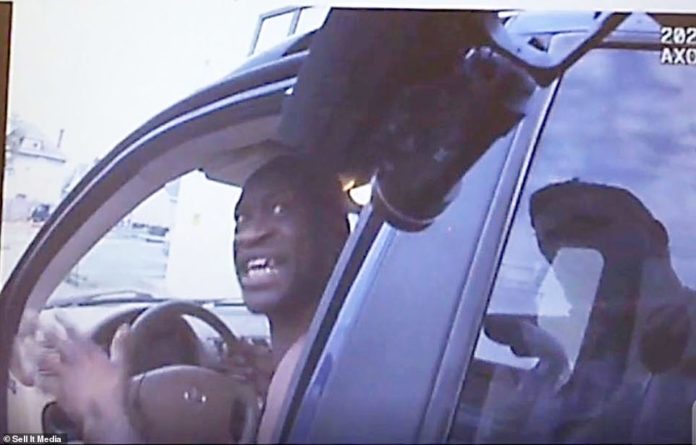 This is the damning bodycam footage that shows George Floyd first being approached by cops and held at gunpoint, escalating to him being pinned under Derek Chauvin's knee – an act that found the former cop guilty of murder today. 
The tapes show minute-by-minute detail how a very distressed Floyd begs 'Mr. Officer, please don't shoot me. Please man,' before the struggle that ended with his death on May 25 and ignited nationwide protests.
It also shows how belligerent cops cursed at and manhandled the sobbing suspect, ignoring his pleas for compassion.
Floyd resisted as the cops tried to force him into the back of the car, telling them he suffers from claustrophobia and anxiety. Chauvin then knelt on his neck for nine minutes, ignoring Floyd's repeated cries of 'I can't breathe.'
Floyd is even heard predicting his own death. 'I'll probably just die this way,' he says.
On Tuesday Chauvin was found guilty on all counts – second-degree unintentional murder, third-degree murder and second-degree manslaughter. The jury returned its verdict after just 10 and a half hours of deliberation and after weeks of testimony.