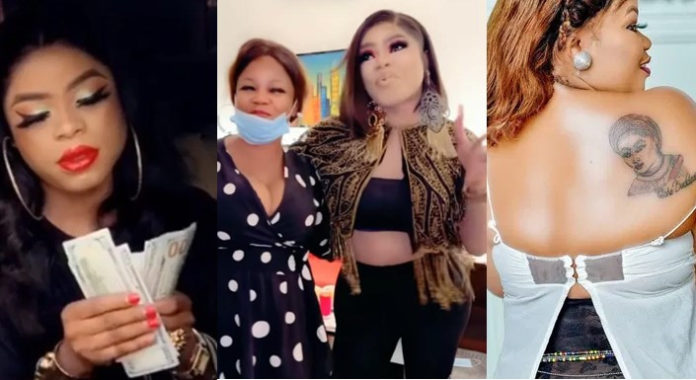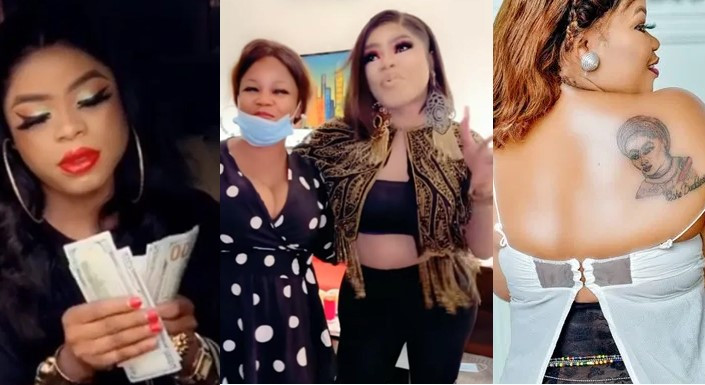 Anumba Gift, the lady who first tattooed Bobrisky's face on her body has publicly backed Ivorian lady, Oye Kyme's claim of the cross-dresser assaulting her.
LIB reported earlier that Oye shared a video of her bloodied face, accusing Bobrisky of assaulting her because she failed to call a hair stylist to loose his hair. She had also accused the cross-dresser of being a liar, a manipulator and a pretender who fails to keep his promises.
Corroborating the claim, Gift first shared an Instagram post which came with the popular slang of "e don spoil". She also described herself as someone who "loves from her heart and won't betray whom she cherished".
She wrote;
E don spoil
Am a different being, I always Love from my heart.
Regardless of anything, I won't betray whom I cherished.
Why so quick, Am still real and taking all bullets but I move and spread love.
I love you so much
Commenting further on the incident, Gift countered claim of an alleged set-up. She stated that anyone who doesn't believe the Ivorian lady is senseless and a fool.
See her post below;
When asked what will happen to the tattoo of Bobrisky she has, the lady said she will be cleaning it.
In her concluding post on Instagram, Gift disclosed that she will be talking soon. She added that being "calm and reserved at times" is always mistaken for dullness.
See the post below…..
Prior to this fallout, Bobrisky made headlines for headlines for gifting Anumba Gift one million naira, promising her an iPhone 12 pro max, a vacation in Dubai, N3m to start up a business, clothes and hairs.