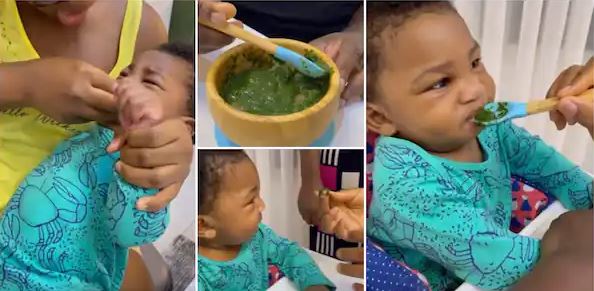 A Nigerian parent didn't expect what they got in their bid to change the narrative of breakfast for their kid. The Nigerian couple had offered their little kid a meal of Amala for breakfast much to the displeasure of the child.
In the trending clip, the dad started up a short conversation as he introduced the unusual menu and went on to give a spoonful to the irritation of the kid.
Seeing his efforts wasn't yielding results, his wife took over but was still met with some resistance from the kid who turned away and refused the meal from entering his mouth. The 'frustrated' mum then resorted to forcing the meal down the throat of the child. The father of the child could be heard in the background hammering on why the kid should be flexible and not always take milk.
Watch the video below:
View this post on Instagram
Funny reactions have trailed the video from Nigerians. Many hailed the kid for putting up some resistance as they threw hilarious 'jabs' at the couple.
@elozonam wrote: "Even the baby has inside tea from heaven."
@doyinsola_x said: "Lmao he's still a kid, me never Sabi! Hot Amala, gbegiri and ewedu with better tinu Eran and ogunfe. Omo that sh*it cures covid even."
@iam_dawn1 reacted: "This unacceptable! why nah! human rights should intervene."