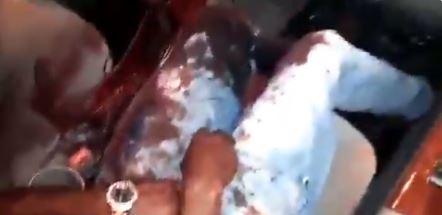 A man is heartbroken after one of his close friends was killed by unknown gunmen in army uniform last night, 1st May, 2020. He shared the heartbreaking video of the incident.
Pablo Martini wrote in a series of tweet: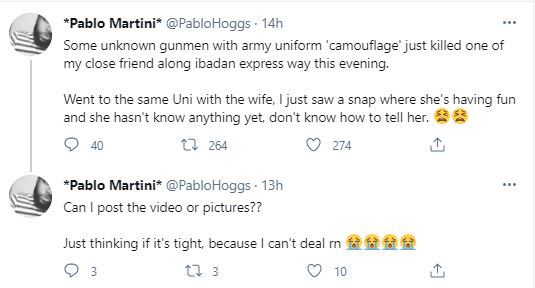 He continued:
If it hasn't happen to someone or people close to you, you'll think this insecurity issue is a joke. These bandits, herdsmen, unknown gunmen and fulani case should be taken with iron hand because it's getting out of hands. My friend is a victim of these people
Imagine, in a sane country where there's a living president on seat, a polytechnic was asked to lockdown because of insecurities. Those unknown gunmen are in town Gateway Polytechnic to be specific. My friends are on the crime scene at the moment. Watch the video below:
That's my friend in cold blood, unknown gunmen with army uniforms did this. We have a business to strike tomorrow, not knowing this country will fail us. ??? pic.twitter.com/dMoCBw8ZVV

— *Pablo Martini* (@PabloHoggs) May 2, 2021
Pablo continued:
They just finished bathing my friend at the police station Ishara Remo, taking him to Epe is hometown to bury him. He went out to source for livelihood, get killed on his way & about to be buried now. His wife passed out when she heard the story. So sad and pissed right now.
This is so sad. We hope the culprits are caught  and apprehended.