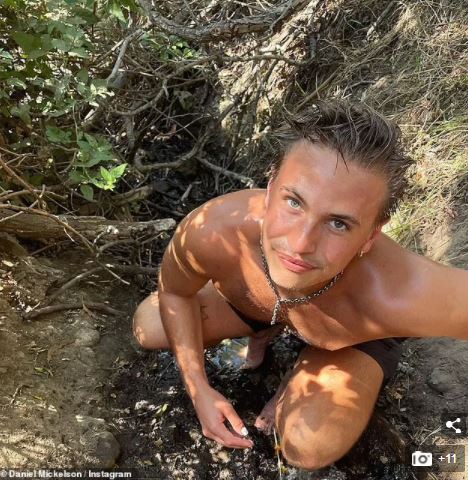 Celebrities have paid homage to actor Daniel Mickelson after he tragically passed away aged 23 on the Fourth of July.
The rising star's cause of death has not yet been announced.
He was best known for his appearance in 2019 TV series Mani and indie horror film The Killer Clown Meets the Candy Man.
He was born in Atlanta, Georgia and recently announced the launch of his clothing company, Kids Back Home, in January.
Tributes have poured in for the young actor. Kaia Gerber led celebrity homages to Mikelson with an emotional tribute to the late actor.
The supermodel, 19, reflected on their close friendship and all the 'laughter and happiness' he brought to this world for the past two decades in a heartfelt Instagram Story.
Sharing a screenshot from a FaceTime call, Kaia wrote:  'I remember that time we sat on the couch and spent the whole day coming up with our own secret language that we continued to speak every time we saw each other.'
The beauty added: 'I wish we could go back there. I wish we were still talking in sentences that probably annoyed everyone else but made us crack up every time.'
Gerber went on to confess she wishes they could still FaceTime as she sat on the bathroom floor because it's 'the only place' she has Wi-Fi and she 'never wanted to miss a call from' him.
'Thank you for being the reason for so much laughter and happiness in the world. It won't be the same without you here. I love you Daniel,' she concluded on Monday night.