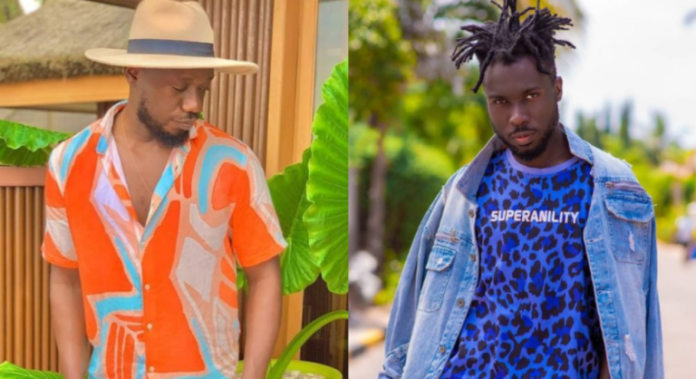 Ghanian filmmaker, Kobi Rana,(top right) has made allegations against Ghanaian celebrity blogger Eugene Osafo-Nkansah popularly known as Nkonkonsa (top left).
Their newfound enmity started  three days ago after Kobi Rana shared his view on the viral video of Ghanaian lawmakers praying fervently against gays and the LGBTQ movement gaining more prominence in Ghana.
Kobi Rana reacting to the video said;
"Here are Ghana leaders praying today. They are praying against LGBT and planning to criminalize it. I am sure that will stop police and military from killing citizens, get jobs for unemployed youth and solve the unbearable cost of living.
"Not forgetting their own corruption. Thieves praying against sex. How will somebody's vagina, penis and asshole fix your country? YOU WILL DO ANYTHING TO SHIFT ATTENTION FROM THE PROBLEMS AND FAILURES YOU MUST FIX. The world must be rolling on the floor with laughter. Best comedy news for @cnn @bbc @mtv @enews."
After the post, Nkonkonsa wrote about Kobi's stance on the LGBTQ movement in a screaming headline on his Instagram blog.
The headline offended Kobi who took offense and he took shots at the blogger.
See what he commented below;
After calling the blogger out, Nkonkonsa then started posting jobs of Kobi Rana, which further incensed him as he saw the act as hypocritical.
Kobi Rana then went further to allege that Nkonkonsa has been sleeping with and 'licking' a newsreader with Twi news.
See his post below.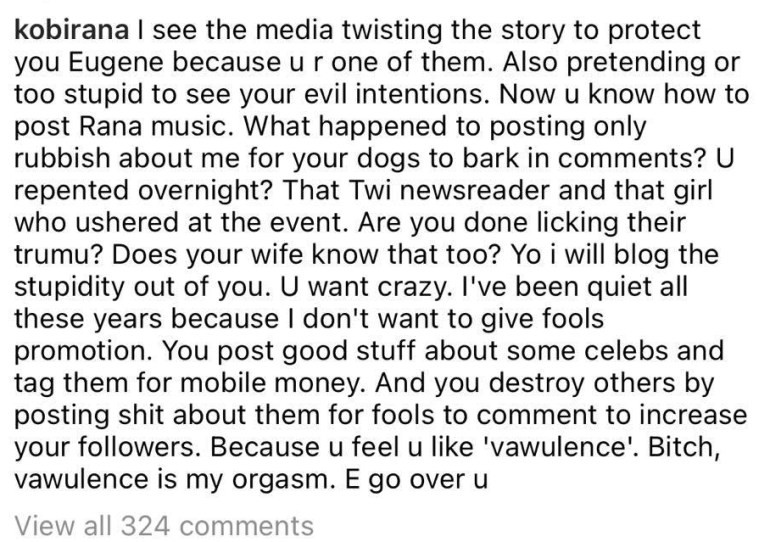 This comes barely weeks after Nkonkonsa asked his wife Victoria Lebene (pictured below) for forgiveness after a lady, Abena Korkor called him out for being an excellent p*ssy licker.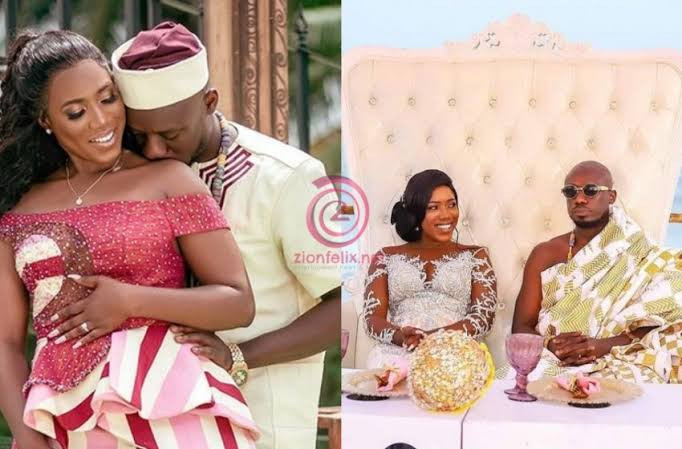 According to Abena Korkor who has publicly acknowledged she has bipolar disorder, she had no intentions of bringing shame to Nkonkonsa and his wife but was actually have a relapse.
Nkonkonsa denied Abena's allegations which made Abena leak chats of their conversations on WhatsApp where he was begging her to let him come meet her.