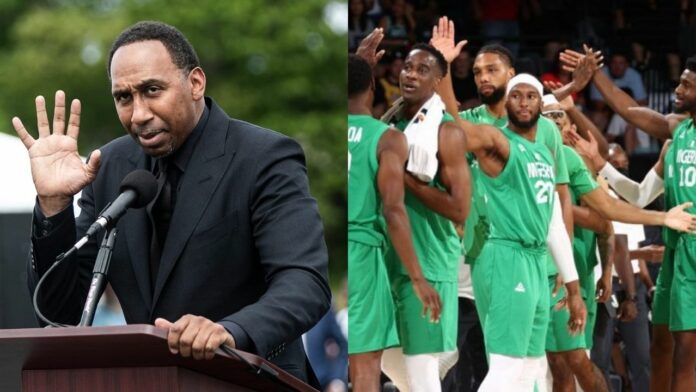 The Nigerian basketball team has slammed ESPN's Stephen A. Smith after he went on TV to rant about America's loss to Nigeria and disrespected Nigerian players in the process.
While speaking on "First Take", Stephen seemingly purposely, butchered the names of the Nigerian basketball players.
This is the second offensive rant Stephen made on Monday, July 12, following a xenophobic rant about Los Angeles Angels star Shohei Ohtani.
"There's no excuse to lose to Nigeria," Smith said on ESPN before tweeting the clip out himself. "[To lose to] some dude Gabe Nnamdi, who goes by Gabe Vincent for the Miami Heat. Or Caleb Agada. Or Nma … however the hell you pronounce his name."
The Nigerian team and many of its players took to Twitter to slam Smith for his take shortly after he posted it.
A one minute clip with no basketball analysis and pure disrespect to the names of our culture.
Do better please @stephenasmith. This is low, even for you. https://t.co/H6m69KCwL2
— D'Tigers | Nigeria Basketball (@NigeriaBasket) July 12, 2021
We don't subtweet. So yes we are talking to you @stephenasmith
— D'Tigers | Nigeria Basketball (@NigeriaBasket) July 12, 2021
Most disrespectful thing I've heard in a while. @stephenasmith is violating over 200 million 🇳🇬's with statements like this. Those 3 men that he mentioned worked way to hard to be dismissed like that. Say our names properly or don't say them at all. https://t.co/ybaHJohJmq
— Stan Okoye (@StanOkoye_) July 12, 2021
You can critique the other team without disrespecting us. Put some respect on the flag and the mother land! Don't forget where your ancestors came from !!!! 🇳🇬😁 https://t.co/d7B1lK0nLW
— Josh Okogie (@CallMe_NonStop) July 12, 2021
You can lament your loss without slandering the players who gave blood and sweet to grind out a win
Put some respect to their names https://t.co/BOZ6dwHGph
— #NBBF (@nbbfonline) July 12, 2021
Nigeria cruised to a dominant 94-71 exhibition win over Argentina on Monday, too.
Smith apologized after wild Ohtani rant
Smith apologized multiple times on Monday night for a take he made about Ohtani.
Smith claimed that Ohtani, who was born in Japan and is perhaps the biggest name in baseball right now, can't be the face of Major League Baseball because he uses an interpreter.
"But when you talk about an audience gravitating to the tube or to the ballpark to actually watch you, I don't think it helps that the number one face is a dude that needs an interpreter so you can understand what the hell he's saying."