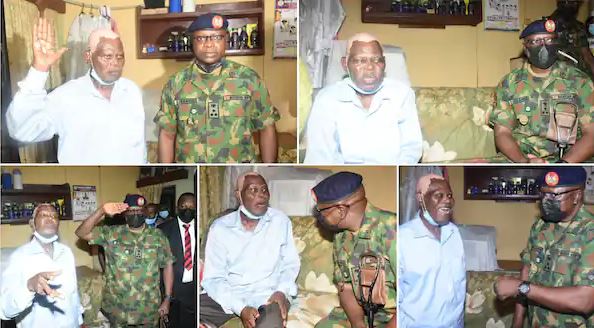 Dr Oluwole Adetiran composed the famous anthem of the National Youth Service Corps (NYSC). The director-general of NYSC, Brigadier General Shuaibu Ibrahim, on Thursday, July 15, paid him a courtesy visit at his residence in Ogun state.
The visit was necessitated by news of his ill health. A sweet moment during the visit was when a band of choirs who the man had trained over the years welcomed the brigadier general with stanzas of the anthem led by Oluwole.
General Ibrahim appreciated the man's service during the welfare call as he said: "I am very proud to be part of the NYSC success story through the Anthem I composed. I am today fulfilled by this visit." In turn, the composer thanked the army boss for checking on him despite how busy his schedules must have been. Photos shared on Facebook by NYSC showed moments captured during the visit.