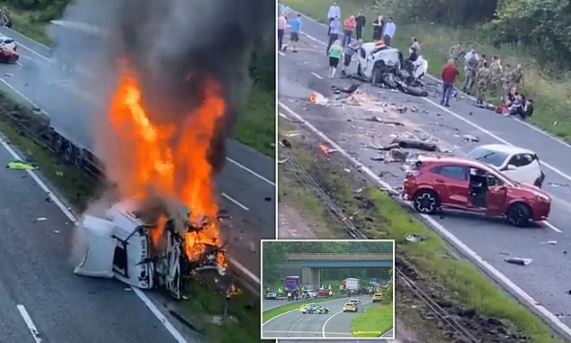 Several people were feared to have been killed last night when a heavy goods lorry smashed into cars and exploded on a busy dual carriageway.
A large rescue and recovery operation was launched after the horrific crash on the A1(M) between Bradbury and Carville in County Durham.
The road was expected to remain closed late into this morning.
Police appealed for dashcam footage to help explain what caused the fiery crash, which took place at around 6pm last night.
'Sadly, there appear to have been fatalities,' the County Durham force said.
Images from the scene showed a lorry had seemingly collided with several cars before smashing into the central reservation, partly crossing it, and catching fire.
Wreckage was strewn for several hundred feet down the road behind the lorry. One white Range Rover was particularly badly damaged, while other cars were written off.
Emergency services remained at the scene in the early hours of Friday.