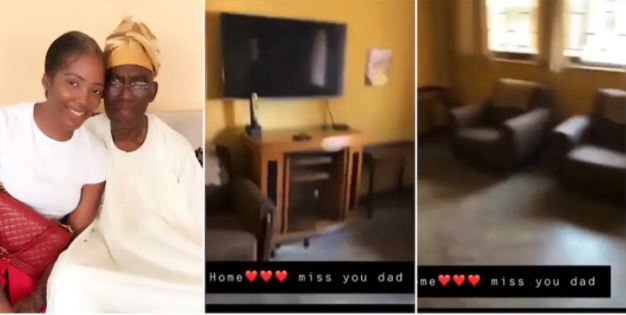 Nigerian singer Tiwa Savage is still mourning the death of her father who passed away on Tuesday, July 20. Just recently the singer shared a video on social media that captured the moment she paid a visit to her late father's house.
In the video, Tiwa filmed the surroundings of the apartment and focused on some family pictures that rested on the wall.
One of the pictures was taken on the singer's wedding day. An overjoyed Tiwa was spotted beside her dad who had walked her down the aisle on the precious day. Sharing the video online, Tiwa noted that she misses her dad. She also prayed for him to continue watching over her.
Watch the clip below:
View this post on Instagram
See reactions below:
bimpelayade – At least A little renovation, paint, beautiful chairs, a whole Tiwa, I'm disappointed
official_tracy7 –
For those of you saying, is this where her father live,show me your father house 🏠 especially una way dey take pictures for different hotel 🏨 gates,show me your house 🏡 nonsense
lekki_bistro –
Rest in peace..i am so proud of you for showing us your roots..no fake life,God bless you
official_tracy7 –
see before I lost my dad this month last year,my eldest brother asked my dad to follow him and his wife to his new house 🏠 he refused ok let us do renovation he said no, we couldn't say anything than to allow him,but people where talking without knowing the history,you don't just judge people without knowing the full history.