Joyce Tynan, a mother of three and grandmother to two, was known as 'Supergran' for her lifelong dedication to her favourite football team.
She passed away on July 25, following a major stroke a couple of weeks ago and an ongoing battle with dementia.
Her son Paul Tynan, 61, from Fratton, said: 'My mum was feisty, and she could be stubborn, but very proud to come from Pompey '
Born in 1932, Joyce went to her first football game in 1946 following the end of the Second World War.
She worked in service, starting off as a scullery maid and working her way up to the position of cook.
Joyce married her husband Patrick – known as Tommy – in 1953, after the couple met in London.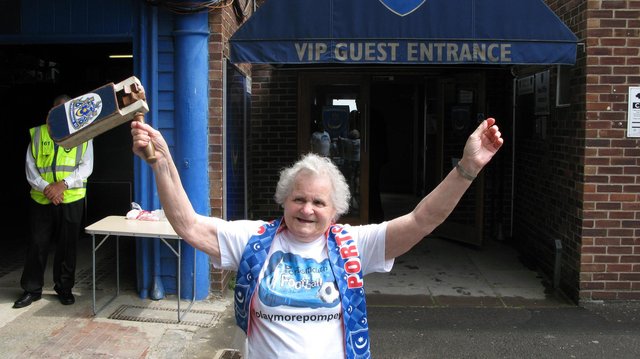 She was mum to Paul and his siblings Mary Traves, 57, and Patrick Tynan, 55, and grandmother to Mary's daughter Heidi and son Kim.
Tommy, who worked as club steward, passed away about five years ago.
Paul says that the whole family is keen on football, and is a supporter of Portsmouth FC himself.
He said: 'Although she had a poverty upbringing, she always would go the extra mile for someone who didn't have anything. She'd fight for other people before herself.