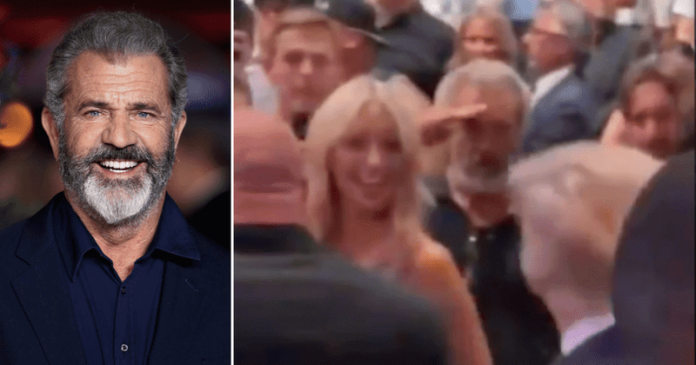 A viral video is making the rounds that shows actor Mel Gibson apparently saluting Donald Trump at the star-studded UFC 264 fight between Conor McGregor and Dustin Poirer on July 10.
The video, originally posted by conservative outlet The Columbia Bugle on Twitter, shows the controversial actor and director gesturing to Trump as a security team whisks the former president away. Other videos from the event show Gibson in the same black collared shirt, and Snopes later confirmed the validity of the video.
Yoooooo!!! Is that Mel Gibson saluting President Trump? #UFC264 pic.twitter.com/QEqa0p2cOn
— The Columbia Bugle 🇺🇸 (@ColumbiaBugle) July 11, 2021
The Oscar-winning director has had an alleged history of racist, homophobic, and anti-Semitic episodes that have been well-documented in his films, from representing a violent cop as a hero to playing the white Santa Claus of Megyn Kelly's dreams. Gibson has remained in controversy after making a series of anti-Semitic comments over the course of several decades.
Mel Gibson saluting Trump shouldn't suprise anyone. Nazis salute other Nazis.

— Amy Lynn🧦❤️ (@AmyAThatcher) July 12, 2021
One person questioned, "Why did Mel Gibson who never served in the military salute captain bone spur who dodged the draft?" And one said, "Mel Gibson literally told his wife she'd be "r***d by a pack of [n-word]" and they still let this trash make movies and win Oscars".
Why did Mel Gibson who never served in the military salute captain bone spur who dodged the draft?

— Avenger Resister (@AvengerResister) July 12, 2021
Mel Gibson literally told his wife she'd be "r***d by a pack of [n-word]" and they still let this trash make movies and win Oscars https://t.co/2YTM4GbhJg

— Fifty Shades of Whey (@davenewworld_2) July 12, 2021