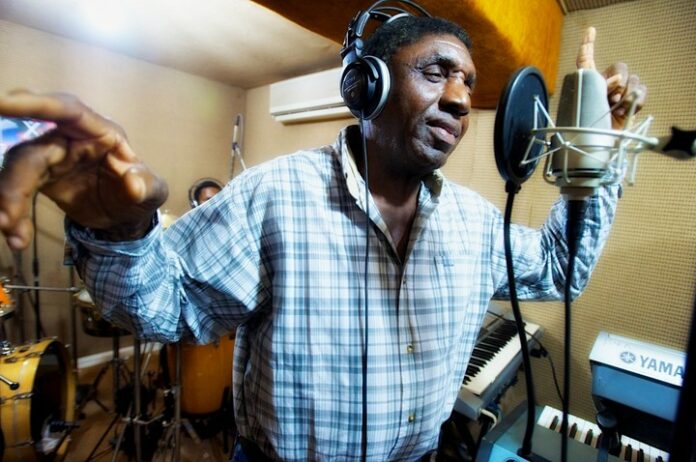 Bongos Ikwue is a music legend, who was born in Otukpo, Benue State, Nigeria on the 6th of June 1942. He made waves in the 60s, 70s and 80s.
 Profile
| | |
| --- | --- |
| Name: | Bongos Ikwue |
| Date Of Birth: | June 6, 1942 |
| Place of Birth: | Otukpo |
| State of Origin | Benue state |
| Net Worth: | $700,000 |
| Nationality: | Nigerian |
Early Life
Bongos Ikwue is a Nigerian singer and song writer born on the 6th of June 1942 in Otukpo, Benue state. He attended St Pauls Secondary School, Zaria and Okene Comprehensive Secondary School where he formed his first band- the Cubana Boys. He also attended ABU Zaria, Kaduna.
Age
How old is Bongos Ikwue? As of 2021, Bongos Ikwue is 79 years old born on 6 June 1942.
Career
Bongos Ikwue Music career started early in school while he attended Okene Comprehensive where he formed a group called "Cubana Boys" after which he moved to Ahmadu Bello University, Zaria where he studied Business Administration. while in (ABU) Zaria he formed his own Band called "Unibello Brothers". In 1967 he founded and headed the "Groovies Band". Mr Ikwue also composed the song "Cocks Crow at Dawn" which was used as soundtrack for Inale a 2010 Nigerian musical drama film produced by Keke Bongos and directed by Jeta Amata.
Many love him for his soulful, folksy songs, the most popular of which includes: Cockcrow At Dawn, Still Searching, Amen, Otachikpokpo and a host of others. His dedication to his music was obvious due to the high quality of the albums he churned out, and due to the sheer elegance and the electrifying energy of his live performances, where the band was always on key, and the musician himself was always true to every note. His ability to stay on the right note is an indicator of his hard work as a musician.
Bongos Ikwue was always original; he never tried to imitate any artist, local or international and focused on perfecting his chosen genre. He takes his time in the studio in order to affect the perfect melody for his songs, often rewriting his music until it was exactly right. The icon never rushed to produce any song and it is this conscientiousness that ensured that he produced hit after hit without fail.
Wife, Children
He started to focus more on the home front, where has a lovely wife, Josephine; and five children, four girls and one boy named, Oyankeke, Elamei (Omei), Jessica, Onyew and Igoche, in that order. He is a devoted father and enjoys singing in the company of his children. Bongos would often call two of his daughters, Omei and Jessica, to sing in the presence of guests.
2face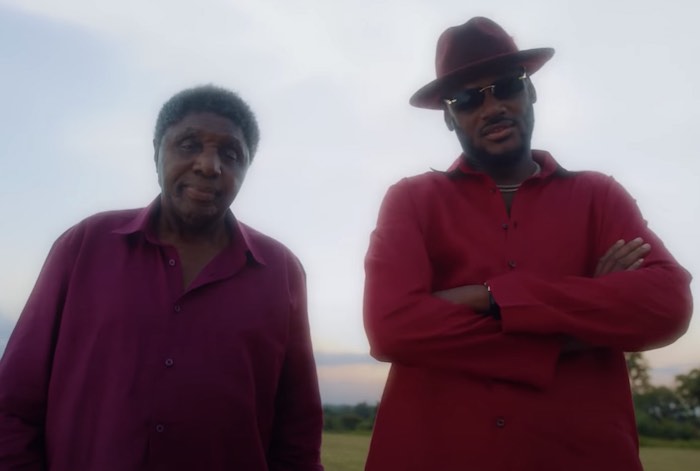 2Baba, the Nigerian singer, has come through with 'Searching', his highly-anticipated collaborative project with Bongos Ikwue, the veteran musician.
Maryam Babangida
Discountenance the wicked rumour. And this is authoritative. Legendary musician, Bongos Ikwue and Nigeria's former first lady, Mrs. Maryam Babangida never dated.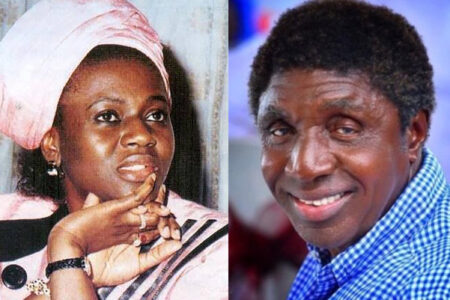 And confirming this, is veteran musician and producer, Emma Ogosi. According to the 'Ebe awele m di' crooner, who described Mrs. Babangida as a cousin and Bongos as a childhood friend and professional colleague, nothing of such ever happened.
Net Worth
Nigerian music legend, Bongos Ikwue estimated net worth is $700,000.