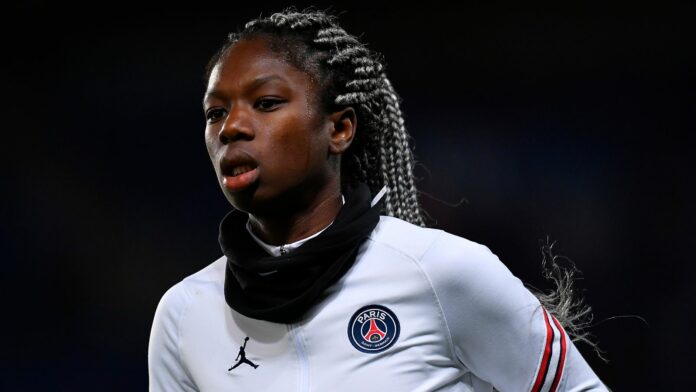 Aminata Diallo is a French footballer who plays as a midfielder for Division 1 Féminine club Paris Saint-Germain.
Age
Aminata Diallo is 26 years old.
Career
Diallo began playing at an early age and as a youth, she played for two teams. From 2006 to 2009 she played for AJA Villeneuve Grenoble and later for Lyon from 2009 to 2010.
As a senior, she has played for various teams and the list keeps on being bigger as she grows. She started off at the Claix team from 2011 to 2013 with 12 goals and then to Arras from 2013 to 2014 with 1 goal. From 2014 to 2016 she played for Guingamp with no goals under her name before moving to Paris Saint-Germain.
Aminata has also played for her France National team from 2012 to date. From 2012 to 2014, she played with the France U19 team scoring two goals for the team. Later she played with the France U20 team with no goal in 2014. She scored three goals for the France U23 team in her time from 2015 to 2019. Diallo also appeared in 2017 playing for the France team and scored a goal for the team.
In June 2016, Aminata signed a two-season contract deal with Paris Saint-Germain Féminines. She still plays as a midfielder for the team and has scored 2 goals in her career there and always has a jersey with the number 20.
Arrest
Diallo's PSG teammate Kheira Hamraoui was attacked and assaulted in the street after two masked men dragged her from her car in November 2021. The attack aimed at her legs and it was thought of as a way to stop her from playing. Diallo filled in her position in the team's 4-0 victory against Real Madrid in the Champions League on Tuesday. Aminata was later on November 10, 2021, arrested on suspicion of arranging the attack.
Net Worth
Diallo has a net worth of approximately $1.5 million as of 2021.