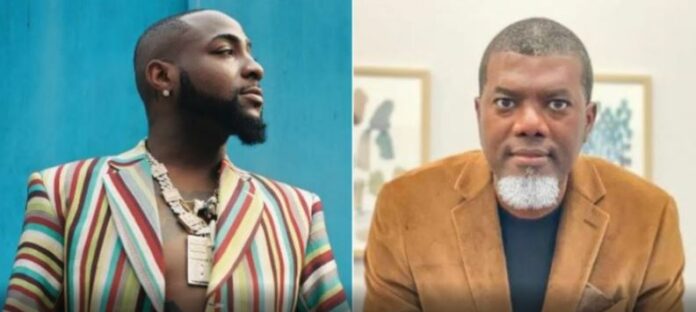 Former Presidential aide Reno Omokri has opined that Nigerian singer Davido is wiser than those who contributed to his N1 million birthday challenge.
This comes a few hours after Davido revealed he would donate the sum of N251 million he received as a birthday gift from friends and associates to different charity organisations across Nigeria.
In a post shared on Instagram, Reno Omokri said Davido understands the spiritual realms and the ways of God, and with the recent kind gesture, he has secured a soft spot in the heart of God.
He wrote: Davido is much wiser than all those who gave him monies on his birthday. He understands the spiritual realm and the ways of God. He has secured a soft spot in the Heart of the Creator, by virtue of James 1:27. I commend him. What a heart of Gold. What a man to watch for the future. Could his life trajectory be like Ronald Reagan's? Those who gave to him are are different issue entirely. They should read Proverbs 22:16.
In a subsequent post, Reno Omokri said a few people would donate one million Nair to orphanages who need the money but will fall over themselves to contribute the same amount of money to Davido, who doesn't need it.
Reno Omokri added that if Davido had asked his friends and associates to donate to orphanages, he would not have realised the enormous amount of money he did in less than 72 hours.
He wrote: To show you how vain human nature is, very few people will donate ₦1 million to orphanages, who really need the money. But they will fall over themselves to donate ₦1 million to Davido, who doesn't need the money. Davido understood that. And did what he did. If he had asked them to donate to orphanages, you won't see the deluge of Naira rain you saw.
'I thought I was a man, but…' Davido's DJ, Ecool, says, as he welcomes a child with his partner
Davido showed a deep understanding of human nature. I personally believe that this was his intention all along. And I love how he added ₦50 million of his own money. That will show those who said that he was doing this because he is broke that they are the ones who are broke, both morally and financially. Bravo David Adeleke. Bravo!
View this post on Instagram
He went further to say that Davido gave the money because that was intention from the beginning not because of public outcry. Read his post below:
"Those people saying Davido only donated the money as an afterthought are very pathetic haters. Look at the calibre of people on the committee to disburse the funds. It would have taken days, if not weeks, to contact them and get their approval to serve on the committee. Those are not hungry people that you just call and incorporate them into such an effort lightly. This was a carefully thought out act of goodness. Accept it. Davido deserves universal commendation for this. Universal. Nobody, whatsoever, should cast aspersions on him. In our county, we have people who are ten times richer than Davido. And they have not done this. Let's give honour to whom it is due!"
View this post on Instagram